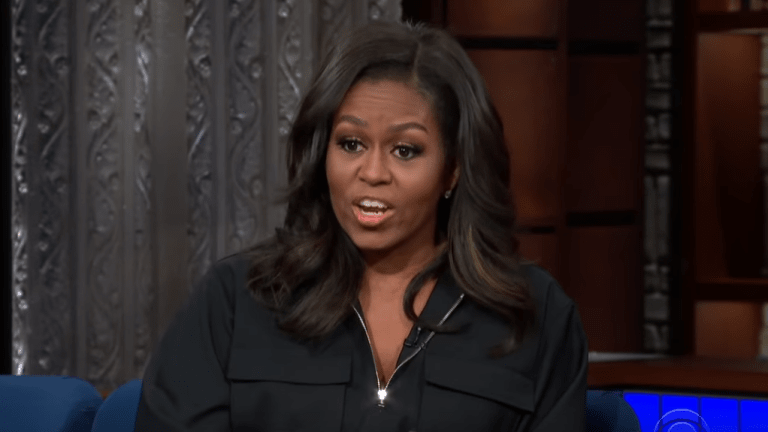 Michelle Obama Voted Most Admired Woman by Americans
Former FLOTUS Michelle Obama was voted the woman most admired by Americans this year.
Obama knocks former FLOTUS Hillary Clinton from the top spot for the first time in almost two decades. According to Gallup, Oprah Winfrey was second, with Clinton and Melania Trump next. Obama racked up 15 percent of the vote with Winfrey's second racking up 5 percent of the votes.
Obama is still promoting her best-selling book, "Becoming."
"Like a lot of political spouses, the role was thrust upon her. But I always knew she'd be incredible at it, and put her own unique stamp on the job. That's because who you see is who she is—the brilliant, funny, generous woman who, for whatever reason, agreed to marry me. I think people gravitate to her because they see themselves in her—a dedicated mom, a good friend, and someone who's not afraid to poke a little fun at herself from time to time," her husband, said to Vogue.
Clearly, America sees this too.
For the men, former POTUS tops the list with 19 percent of the vote, followed by Trump's 13 percent in second place.
Here are the complete lists:
Most Admired Woman
Michelle Obama    
Oprah Winfrey 
Hillary Clinton    
Melania Trump   
Queen Elizabeth   
Angela Merkel    
Ruth Bader Ginsburg   
Ellen DeGeneres    
Nikki Haley    
Malala Yousafzai    
Nancy Pelosi
Most Admired Men
Barack Obama    
Donald Trump    
George W. Bush    
Pope Francis    
Bill Gates    
Bernie Sanders    
Bill Clinton    
Dalai Lama    
Joe Biden    
Elon Musk    
Mike Pence