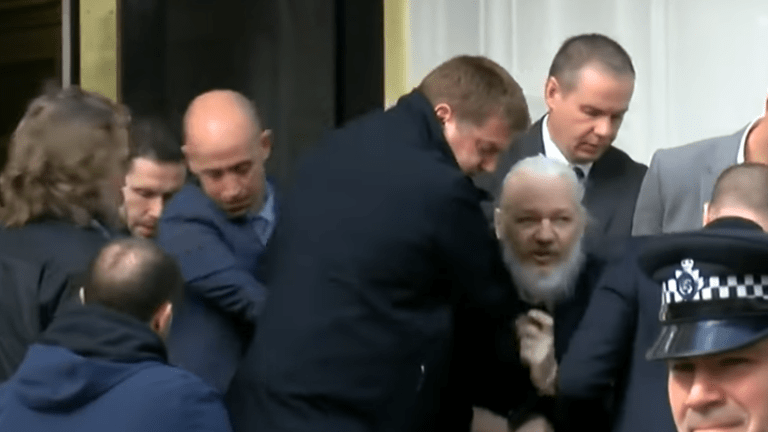 Wikileaks co-founder Julian Assange arrested in London
WikiLeaks co-founder Julian Assange was taken into custody at the Ecuadorian embassy in London on Thursday after years of refuge.
According to the BBC, Assange had been utilizing asylum at the embassy in an effort to avoid extradition to Sweden in connection with a sexual assault case. The case has since been dropped. 
The Ecuadorian government reportedly withdrew Assange's asylum, thereafter Scotland Yard authorities were "invited into the embassy" by the ambassador.
"Ecuador has sovereignly decided to terminate the diplomatic asylum granted to Mr. Assange in 2012," Ecuadoran President Lenín Moreno said in a video statement tweeted by the country's communications department. "The asylum of Mr. Assange is unsustainable and no longer viable."
Assange was charged with one count of conspiracy to hack a computer related to his role in the 2010 release of reams of secret American documents, according to an unsealed.
"The charge relates to Assange's alleged role in one of the largest compromises of classified information in the history of the United States," the Justice Department said in a press release.
Assange was most recently under fire for his organization's release during the 2016 presidential campaign of thousands of emails stolen from the computer systems of the Democratic National Committee, leading to a series of revelations that embarrassed the party and Hillary Clinton's campaign. 
It is thought by many that these actions caused Clinton to lose the election to Donald Trump as it was a pivotal part of his campaign.
London's Metropolitan Police said a statement that Assange was "arrested on behalf of the United States authorities" and would "appear in custody at Westminster Magistrates' Court as soon as possible."