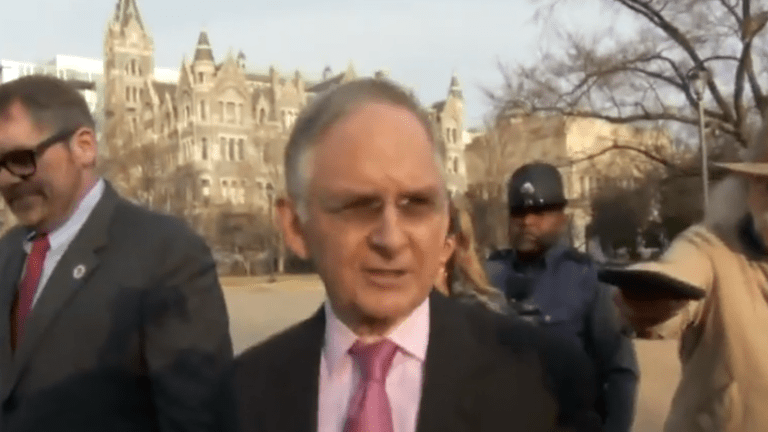 Virginia Sen. Tommy Norment caught up in 'blackface' scandal
The Virginia scandals keep on coming as Sen. Thomas Norment has been accused of editing a yearbook, littered with blackface photographs.
Norment reportedly oversaw the Virginia Military Institute yearbook back in in 1968 which, according to The Virginia Polit, features a host of racist photos and slurs, including blackface.
At the time, the Republican was managing editor of 'The Bomb.'
On one page of the yearbook, a student wears blackface, while a seperate page shows two men in blackface holding a football.
The Pilot reports that the N-word is used at least once, and one Thai student is referred to with anti-Chinese and anti-Japanese slurs.
Another picture features a comments under a student's picture, stating: "He was known as the 'Barracks Jew' having his fingers in the finances of the entire Corps."
Norment has since attempted to shift blame, telling reporters that he was not the only editor of the magazine.
"I was kind of the first sergeant. I'm still culpable, but it is by association with a team that produced that yearbook with those photos." He also denies taking any of the offensive photographs.
A statement was issued by his team saying: "The use of blackface is abhorrent in our society and I emphatically condemn it."
He added that he was "not surprised that those wanting to engulf Republican leaders in the current situations involving the Governor, Lt. Governor, and Attorney General would highlight the yearbook from my graduation a half century ago."
House Speaker Kirk Cox, a fellow Republican, said in a statement, "Senator Norment has emphatically condemned the racist and abhorrent photos in the yearbook, as do I.
"None of the photos include him, he's spoken to his role as a member of the yearbook staff and shared his views on the admissions policy. It's unfair to compare assisting in the production of a yearbook to the other revelations from this week."
Republicans are now singing a different tune after calling for the resignation of Democratic Sen. Ralph Northam who was caught up in a near identical scandal.