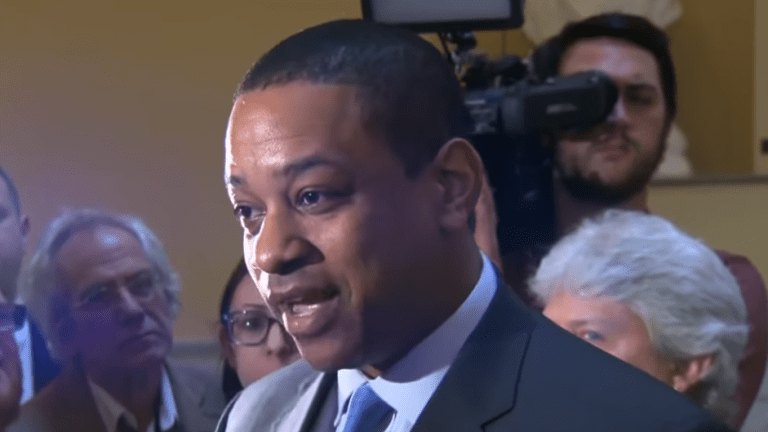 Virginia Lt. Gov Justin Fairfax calls for an investigation to help clear his name
Virginia Lt. Gov Justin Fairfax has called for an investigation into allegations that he sexually assaulted two women years ago.
Barry Pollack, a lawyer for Fairfax, sent letters on Wednesday to prosecutors in Durham County, North Carolina, and Suffolk County, Mass., and called for the allegations against Fairfax to be "promptly and fully investigated," per ABC.
"If an investigation were to determine that the allegation is true, it should be criminally prosecuted," Pollack said in the letters, which were obtained by ABC News affiliate WRIC. "Conversely, if an investigation were to determine that the allegation is false, which Lt. Governor Fairfax is confident would be the conclusion of any unbiased and professional investigation, the matter should be closed and the public informed."
Back in February, Vanessa Tyson and Meredith Watson, stepped forward to accuse Fairfax of sexual assault.
Tyson alleged that Fairfax assaulted her in 2004 when they were both working at the Democratic National Convention in Boston. 
"I was so ashamed," Tyson said at the time. "I was so humiliated on so many levels."
"Here I was, this woman working at a rape crisis center as a survivor, speaking, trying to empower survivors of sexual assault," she went on ho also revealed that she is a survivor of incest. Something she claims that Fairfax knew.
Watson accused the Virginia politician of raping her back in 2000 when they were both students at Duke University.
Meredith Watson, also claimed he took advantage of her history as a sexual assault survivor.
A statement from Watson's legal team said back in April: 
"Mr. Fairfax then used this prior assault against Ms. Watson, as he explained to her during the only encounter she had with him after the rape. She left a campus party when he arrived, and he followed her out. She turned and asked: 'Why did you do it?' Mr. Fairfax answered: 'I knew that because of what happened to you last year, you'd be too afraid to say anything."
This is the second time that Fairfax has called for the allegations against him to be explored:
"I am asking that no one rush to judgment and I am asking for there to be space in this moment for due process," Fairfax said in a statement in February. "Consequently, I call on all appropriate and impartial investigatory authorities, including the FBI, to investigate fully and thoroughly the allegations against me by Ms. Watson and Dr. Tyson.