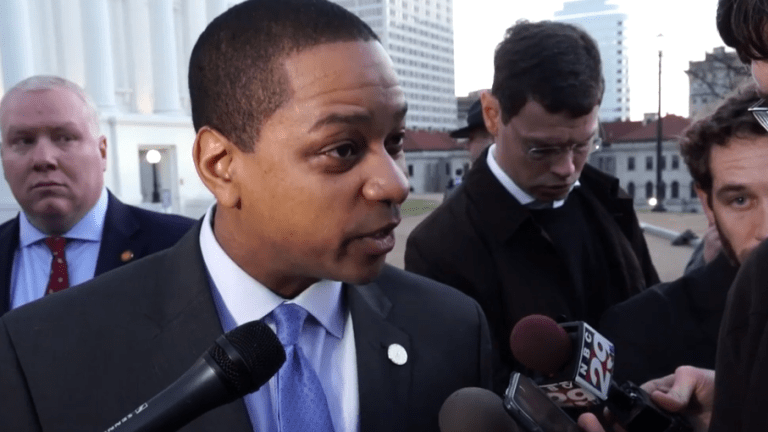 Virginia lieutenant governor questions timing of assault allegations
The lieutenant governor of Virginia, Justin Fairfax, is questioning the timing of allegations of sexual assault.
The claims were published in Big League Politics that he sexually assaulted a woman, but the claims have not been backed up by any facts.
"Imagine you were sexually assaulted during the DNC Convention in Boston in 2004 by a campaign staffer. You spend the next 13 years trying to forget it ever happened. Until one day you find out he's the Democratic candidate for statewide office in a state some 3000 miles away, and he wins that election in November 2017," the post from the reported accuser said, according to BLP. 
"Then, by strange, horrible luck, it seems increasingly likely that he'll get a VERY BIG promotion."
Fairfax implies that the claims are being pushed by supports of Gov. Ralph Northam to block him from becoming the state's new governor after calls for him to resign following the surfacing of racist yearbook photos.
Below is a description of the alleged encounter, according to the Washington Post.
The woman described a sexual encounter that began with consensual kissing and ended with a forced act that left her crying and shaken. She said Fairfax guided her to the bed, where they continued kissing, and then at one point she realized she could not move her neck. She said Fairfax used his strength to force her to perform oral sex.
Fairfax was forced to release a statement denying the allegation:
"Lt. Governor Fairfax has an outstanding and well-earned reputation for treating people with dignity and respect," the statement from his office read. "He has never assaulted anyone—ever—in any way, shape, or form."
He later asked:
"Does anybody think it's any coincidence that on the eve of potentially my being elevated that that's when this smear comes out?" Fairfax said at press conference in Virginia.