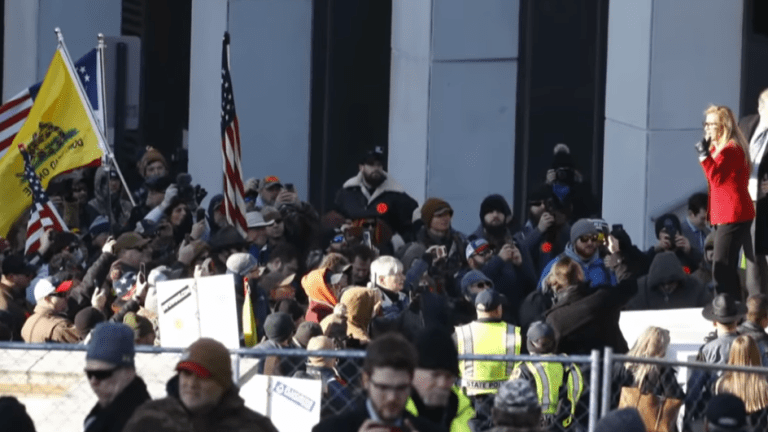 Virginia gun-rights rally ends peacefully despite fears of violence
A large gun-rights rally in Virginia's state capital ended peacefully on Monday despite earlier fears of violence that took place in Charlottesville three years ago.
Virginia Gov. Ralph Northam, a Democrat, released a statement, praising the peaceful demonstration.
"Thousands of people came to Richmond to make their voices heard. Today showed that when people disagree, they can do so peacefully," Northam said in a statement. "The issues before us evoke strong emotions, and progress is often difficult. I will continue to listen to the voices of Virginians, and I will continue to do everything in my power to keep our Commonwealth safe."
Ahead of the rally, Trump urged his supporters to rally against state Democrats' gun control efforts.
"The Democrat Party in the Great Commonwealth of Virginia are working hard to take away your 2nd Amendment rights," Trump tweeted Monday morning. "This is just the beginning. Don't let it happen, VOTE REPUBLICAN in 2020!
Last week, Northam announced a ban all firearms and other weapons around the state capitol building this weekend, ahead of a major gun-rights demonstration.
Northam said he wants to avoid a repeat of the violence that took place at the 2017 white supremacist rally in Charlottesville, which led to the death of a counterprotester.
"We're seeing threats of violence. We're seeing threats of armed confrontation and assault on our capitol," Northam said. "These are considered credible, serious threats from our law enforcement agencies."
Police rightfully predicted at the time that attendee numbers could be in the thousands.
"A substantial crowd will be here in Richmond," State Police Superintendent Colonel Gary Settle told reporters. "We're talking several thousands of people."