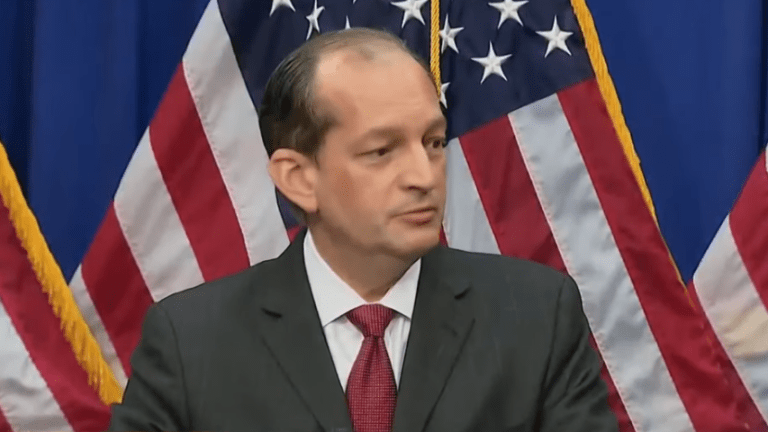 US Labor Secretary Acosta Resigns Following Jeff Epstein Backlash
US Labor Secretary Alex Acosta has finally resigned following backlash over his brokering of a plea deal for financier Jeffrey Epstein
Acosta was thrust back into the spotlight when earlier this week, Epstein, whose friends have included Trump and former President Bill Clinton, was arrested on sex trafficking charges last week.
A Florida judge ruled that the team of Miami prosecutors broke the law when they hid the deal from the more than 30 underage victims who had allegedly been sexually abused by Epstein. Acosta was the lead prosecutor on the case at the time.
President Trump announced Acosta's resignation Friday morning and said the secretary called him Friday morning to say that the decision to resign was his. 
"I thought the right thing was to step aside," Acosta said.
The resignation follows calls for him to step down from Democratic heavyweights, Joe Biden and Elizabeth Warren, as well as House Speaker Nancy Pelosi and Senate Minority Leader Chuck Schumer.
On Tuesday, Acosta tried to wriggle out of the public's crosshairs. "The crimes committed by Epstein are horrific, and I am pleased that NY prosecutors are moving forward with a case based on new evidence," Acosta tweeted.
"With the evidence available more than a decade ago, federal prosecutors insisted that Epstein go to jail, register as a sex offender and put the world on notice that he was a sexual predator."
"Now that new evidence and additional testimony is available, the NY prosecution offers an important opportunity to more fully bring him to justice."