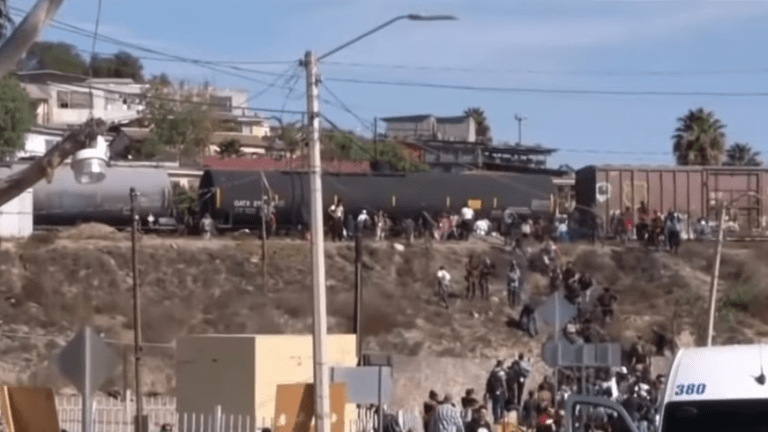 U.S. Customs and Border Patrol Fires Tear Gas at Migrants
About 500 migrants in Mexican rushed the border in a desperate bid to make it into the U.S, near the San Ysidro Port of Entry Sunday afternoon, police responded by firing tear gas at them.
The migrants were being denied their legal rights to asylum.
The conflict comes just a week after a federal judge shut down the Trump's illegal attempt to deny people seeking asylum to apply for asylum in the U.S.
"The rule barring asylum for immigrants who enter the country outside a port of entry irreconcilably conflicts with the INA and the expressed intent of Congress," U.S. District Judge Jon Tigar. "Whatever the scope of the President's authority, he may not rewrite the immigration laws to impose a condition that Congress has expressly forbidden."
But of course, Trump doesn't listen to federal judges. He hopped onto Twitter to reinforce his illegal actions.
"Would be very SMART if Mexico would stop the Caravans long before they get to our Southern Border, or if originating countries would not let them form (it is a way they get certain people out of their country and dump in U.S. No longer). Dems created this problem. No crossings!" he tweeted.
Taking no responsibility for the humanitarian crisis.
Images of mothers holding their babies while being tear-gassed have been going viral, many people outraged by the callousness of the U.S. government.
The port of entry was briefly shut down before being re-opened.
"To prepare for the possibility that additional groups would also break off from demonstrations for a possible attempt or attempts to rush illegally through the port of entry, CBP suspended operations at the port of entry," the agency said in a statement.
Monday morning, Trump doubled down on his stance.