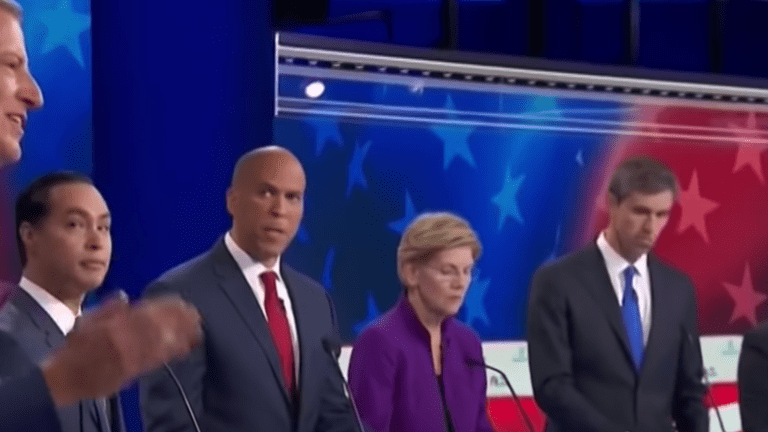 Twitter Divided Over De Blasio's 'I've been raising a Black son in America' remarks
On Wednesday, June 27th, the first Democratic debate with between ten of the candidates running for President of The United States went head to head live on stage, but Bill De Blasio raised eyebrows after he claimed that he stood out from the other candidates -because he's raising a Black son.
New Jersey Senator Cory Booker, former Texas congressman Beto O'Rourke, Massachusetts Senator Elizabeth Warren, San Antonio Mayor Julian Castro; New York City Mayor Bill de Blasio; Maryland politician John Delaney; Congressman Tulsi Gabbard, Washington governor Jay Inslee, Minnesota Senator Amy Klobuchar and Ohio Congressman Tim Ryan all too part in the debate.
De Blasio set tongues wagging when he outlined the difference between him and the other Democratic candidates running against him:
"For the last 21 years I've been raising a black son in America," de Blasio said.
"And I've had to have very, very serious talks with my son, Dante, about how to protect himself in the streets of our city . . . including the fact that he has to take special caution because there have been too many tragedies between young men and our police."
While some applauded de Blasio's remarks, identifying the challenges of raises a Black boy, especially in Trump's America, others were not so impressed.
This is not the first time that de Blasio has opened up about having a Black son. Back in 2014, he said the following in an interview with ABC's 'This Week,':
"What parents have done for decades who have children of color, especially young men of color, is train them to be very careful when they have a connection with a police officer when they have an encounter with a police officer. It's different for a white child," de Blasio told them.
"That's just the reality in this country. And with Dante, very early on with my son, we said, look, if a police officer stops you, do everything he tells you to do, don't move suddenly, don't reach for your cell phone, because we knew, sadly, there's a greater chance it might be misinterpreted if it was a young man of color."