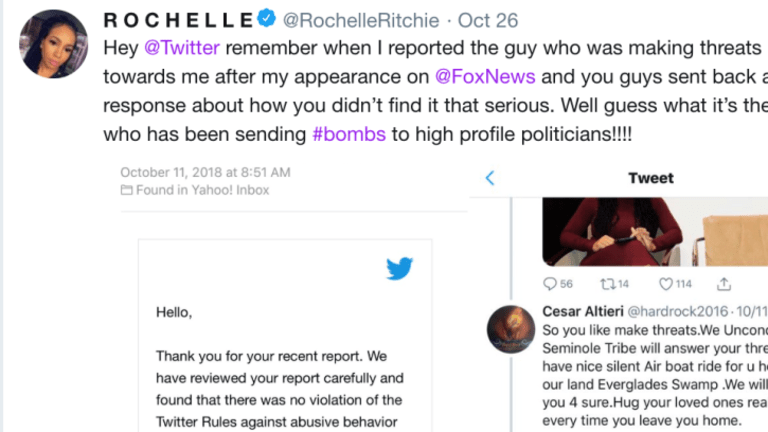 Twitter Apologizes To Black Woman After MAGA Bomber Error
Last week, several high profile Democrats, high profile liberals and the CNN headquarters all received suspicious packages, sending panic across the nation. Among those emailed were Hillary Clinton, Barack Obama, Maxine Waters, George Soros, and actor Robert De Niro who have all publicly condemned Trump's policies.
The mail bomber, who has been nicknamed the "MAGA bomber" by social media, was arrested by the FBI just days later after a fingerprint on one of the packages led them straight to their primary suspect. It has recently come to light that political commentator, Rochelle Ritchie had alerted Twitter about Sayoc two weeks before the incident after receiving a threatening tweet from the bomber.
"So you like make threats. We Unconquered Seminole Tribe will answer your threats. We have a nice Air boat ride for u on our land Everglades Swamp. We will see you 4 sure. Hug your loved ones real close every time you leave you home," he tweeted Ritchie.
Ritchie was quick to report the tweet to Twitter, who then reviewed the report and found that the tweet was not violating any of the Twitter Rules against abusive behavior.
After the mail bombs hit the news, Ritchie reached out to Twitter to highlight their lack of diligence and lackluster response. Twitter has since released the following apology to Ritchie.
The suspect, 56-year-old Cesar Sayoc, went on Twitter under the username @hardrock2016. He is a loyal Republican and Trump fanatic who drove a white van covered with anti-Clinton, pro-Trump propaganda. On one of the posters, Trump is featured on a tank, with explosives going off in the background of the image. The van also displays a CNN sucks sticker, as well as an image of crosshairs overlapping Hillary Clinton's face.
Ritchie was not the only high profile liberal to face his wrath on Twitter. He also had a few choice words for former U.S. Attorney General Eric Holder:
"Hey slime scum U like make threats run your hole.Do not worry your cover up Fast Furious with your bitch Obama not forgotten about our very close friend of we Unconquered Seminole Tribe.See u soon Tick Tock 4" he tweeted. Holder was also a recipient of one of Sayoc's pipe bombs.
As well as his bold form of transportation and threats on Twitter, Sayoc has an equally disturbing criminal past spanning over two decades. Sayoc has been convicted of a felony and has been charged with domestic violence against his own mother. He has also been collared for tampering with evidence, submitting fraudulent tax returns, being in possession of a fake I.D. and more. In 2014, he was arrested for a grand theft and misdemeanor battery case.
The signs were there if only the right people had paid attention. But since the rise of Trump and his rabble-rousing, alt-right supporters, Twitter has become an increasingly unsafe space for those wishing to exercise their right to free speech. Surely when free speech becomes a danger to national security the social media giants should take stock andre-evaluate the way they monitor reports of abusive behavior?