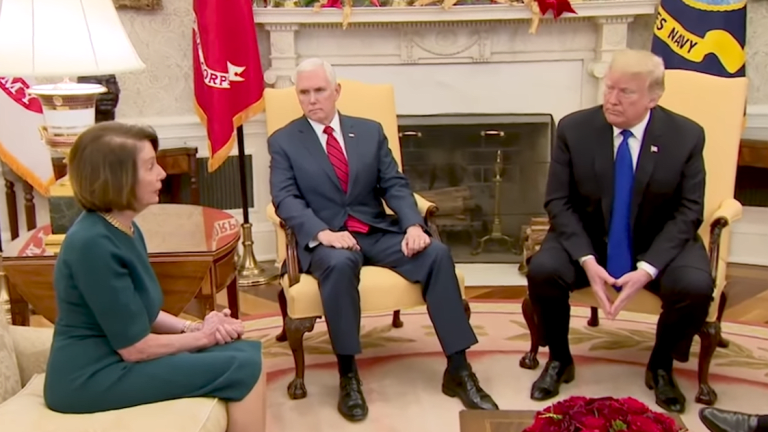 Trump's Threats of Government Shutdown Backfires
President Donald Trump had a heated live debate with Nancy Pelosi, Check Schumer, and vice president live on air yesterday, and his plan to railroad them into paying for a border wall by threatening a government shutdown backfired spectacularly.
 His talk with Senate Minority Leader Schumer and incoming House Speaker Pelosi was supposed to be a private affair, but at the last minute, Trump changed plans and decided to go public and invite the press.
Trump ended up looking like a fool as Pelosi and Schumer doubled-teamed him as he desperately tried to bully them into caving.
"I am proud to shut down the government for border security," Trump said. "I will take the mantle. I will be the one to shut it down. I'm not going to blame you for it."
"The vast majority of Republicans are willing to shut the government to get the wall built. So if you're Trump and your first goal is to continue to solidify your base, it make sense," former House Speaker Newt Gingrich told The Daily Beast. "Presidents have the White House and Air Force One and they are comfortable. They can take the heat and they have a megaphone. And I do think that Trump is setting up for 2020 between an open-borders Democrat and the Trump position."
Pence, who remained silent throughout the exchange, sparked a plethora of hilarious memes on Twitter. Here are just a few.