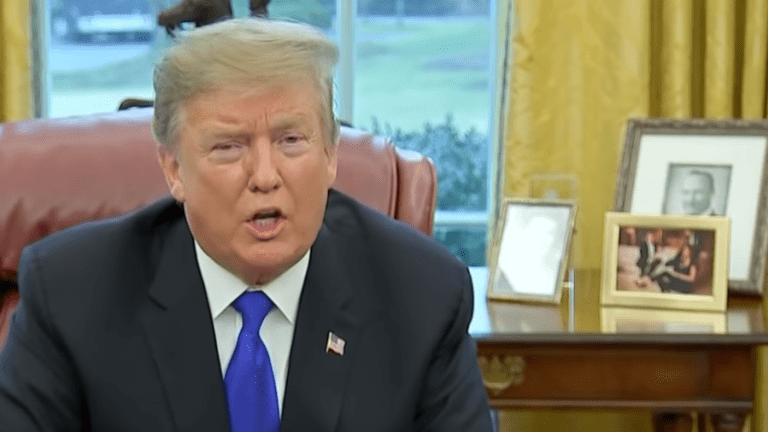 Trump warns GOP to 'Be strong and smart' ahead of emergency declaration vote
President Trump has subtly warned the GOP senators to be "strong and smart" ahead of a vote on his national emergency declaration.
"I hope our great Republican Senators don't get led down the path of weak and ineffective Border Security," Trump tweeted.
"Without strong Borders, we don't have a Country - and the voters are on board with us. Be strong and smart, don't fall into the Democrats "trap" of Open Borders and Crime!"
This month Trump declared a national emergency to divert funds from various agencies to use to construct his southern-border wall, a promise he had made to supporters during his 2016 election campaign.
The Democrats have already made moves to block his faux emergency declaration and a bill has already been proposed to the house. 16 states have already filed a lawsuit against the declaration, including one Republican state.
The states included in the suit are: California, Colorado, Connecticut, Delaware, Hawaii, Illinois, Maine, Maryland, Michigan, Minnesota, Nevada, New Jersey, New Mexico, New York, Oregon, and Virginia. 
"The #FakeEmergency goes beyond partisanship. Democrats & Republicans alike swore an oath to protect & defend the Constitution. It's time to uphold that promise & protect the separation of powers just as our Founders intended," Texas Congressman, Joaquin Castro tweeted on Monday morning.
Speaker of the House Nancy Pelosi retweeted Castro's bold tweet.
"It's unfortunate that on Presidents Day, when we should be celebrating what our presidents have done for this country, that we're actually suing this president," California Attorney General Xavier Becerra said to CBS last week. "But that's important because we're trying to make sure that in the future we respect what our presidents do. And that our presidents respect [that] they too like every American must abide by the law. No one is above the law in this country."
"Republicans in Congress, most of them at least, are abrogating their own responsibility," he added. "This is their power that the president is usurping, the power of the purse, and yet they seem to be going along with the president."