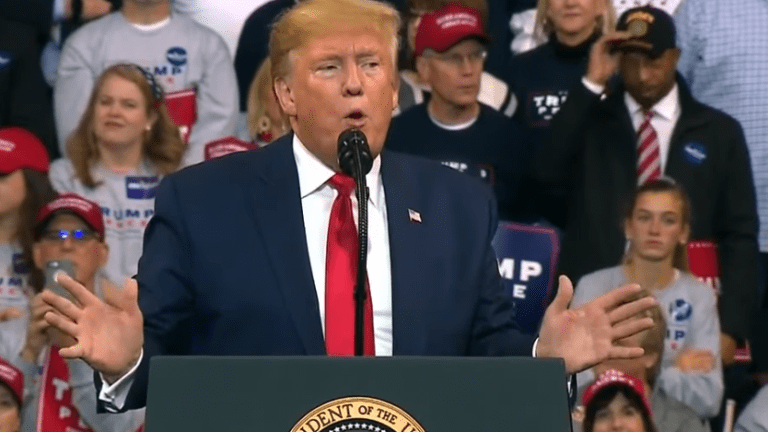 Trump wants to head to Supreme Court to stop impeachment
President Donald Trump is still trying to wriggle his way out of impeachment and hopped on Twitter to hint that he may well take his case to the Supreme Court.
"Just landed in the United Kingdom, heading to London for NATO meetings tomorrow. Prior to landing," he wrote on Twitter.
"I read the Republicans Report on the Impeachment Hoax. Great job! Radical Left has NO CASE. Read the Transcripts. Shouldn't even be allowed. Can we go to Supreme Court to stop?"
One Wednesday, the House Judiciary Committee will hold its first hearing in the impeachment inquiry, titled "The Impeachment Inquiry into President Donald J. Trump: Constitutional Grounds for Presidential Impeachment." 
At the hearing, the panel will hear from legal scholars as Democrats weigh whether the evidence turned up in their impeachment inquiry warrants the drafting of articles aimed at removing Trump from office.
On Monday, the White House has announced that it would not be participating in the House Judiciary Committee's upcoming impeachment inquiry hearing on Wednesday.
White House counsel Pat Cipollone accused Nadler of intentionally scheduling the hearing to conflict with President Trump's trip to the NATO summit in London.
"We cannot fairly be expected to participate in a hearing while the witnesses are yet to be named and while it remains unclear whether the Judiciary Committee will afford the President a fair process through additional hearings. More importantly, an invitation to an academic discussion with law professors does not begin to provide the President with a semblance of a fair process. Accordingly, under the current circumstances, we do not intend to participate in your Wednesday hearing."