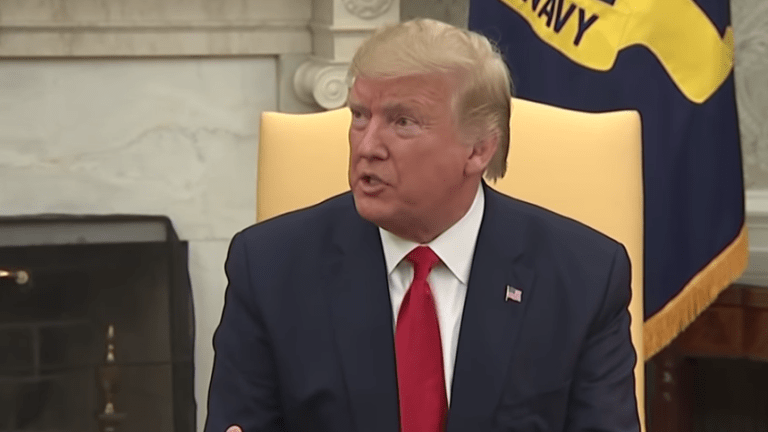 Trump walks back on his threat to strike Iran's cultural sites
President Donald Trump has walked back on his previous threats to wipe out Iran's "52 cultural sites" during a recent visit from the Greek premier.
"If that's what the law is, I like to obey the law. But think of it. They kill our people. They blow up our people and then we have to be very gentle with their cultural institutions. But I'm OK with it. It's OK with me," Trump told reporters in the Oval Office during a meeting Tuesday with the Greek Prime Minister Kyriakos Mitsotakis, per The Hill.
Last week, Trump tweeted that his administration would target Iranian cultural sites should Tehran choose to strike American assets or individuals in retaliation for a U.S. drone strike that killed Iranian General Qassem Soleimani last Thursday.
On Tuesday, Iran took responsibility for dozens of missiles fired at a U.S. airbase within their borders. 
Trump's administration appears to be itching for a war:
"This was an act of war," Sen. Linsday Graham said on "Hannity.". "By any reasonable definition. The missiles were launched from Iran. The president has all the authority he needs under Article II to respond. It was an act of war by the regime that for the last 40 years has been a cancer in the Mideast. When they say they want to destroy Israel, they are not kidding," he continued.
Graham says that he's confident in the president's leadership.
"The president has to do a couple things tonight," Graham said. "What can I do to restore deterrence to make sure this doesn't happen again? He doesn't want regime change. He wants the behavior of the regime to change in three areas: Their ballistic missile program needs to change, they need to stop being the largest state sponsor of terrorism, and we need a nuclear deal that does not ensure them a pathway to a bomb like Obama."
House Speaker Nancy Pelosi called for the administration to cease their provocations and to focus on the safety of U.S. troops.
"Closely monitoring the situation following bombings targeting U.S. troops in Iraq. We must ensure the safety of our servicemembers, including ending needless provocations from the Administration and demanding that Iran cease its violence. America & world cannot afford war," she tweeted.