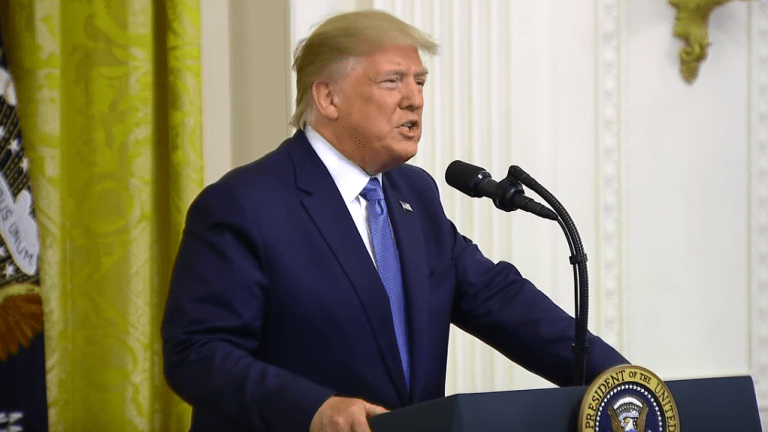 Trump Tells Congresswomen to 'Go Back' to the Countries They 'Came From'
President Trump hit a new low after he hopped on Twitter to tell progressive congresswomen to "go back to the countries they came from."
Trump's attack seemed to be aimed at Democratic freshman, Alexandria Ocasio-Cortez of New York, Ilhan Omar of Minnesota, Rashida Tlaib of Michigan and Ayanna S. Pressley of Massachusetts.
"So interesting to see 'Progressive' Democrat Congresswomen, who originally came from countries whose governments are a complete and total catastrophe, the worst, most corrupt and inept anywhere in the world," Mr. Trump wrote on Twitter, "now loudly and viciously telling the people of the United States, the greatest and most powerful Nation on earth, how our government is to be run."
Trump added: "Why don't they go back and help fix the totally broken and crime infested places from which they came. Then come back and show us how it is done."
All of the congresswomen are American citizens and three out of the four were actually born in the United States.
Omaris from Somalia but came to this country at age ten to seek asylum. Ocasio-Cortez was born in the Bronx, Pressley, was born in Cincinnati and raised in Chicago and Tlaib was born in Detroit to Palestinian immigrants.
"It's important to note that the President's words yday, telling four American Congresswomen of color "go back to your own country," is hallmark language of white supremacists," Ocasio-Cortez wrote in response to Trump's tweets.
"Trump feels comfortable leading the GOP into outright racism, and that should concern all Americans."
Trump continues to launch deeply personal, racist and xenophobic ideologies on social media and in the White House.
How much longer until we #impeachtrump?