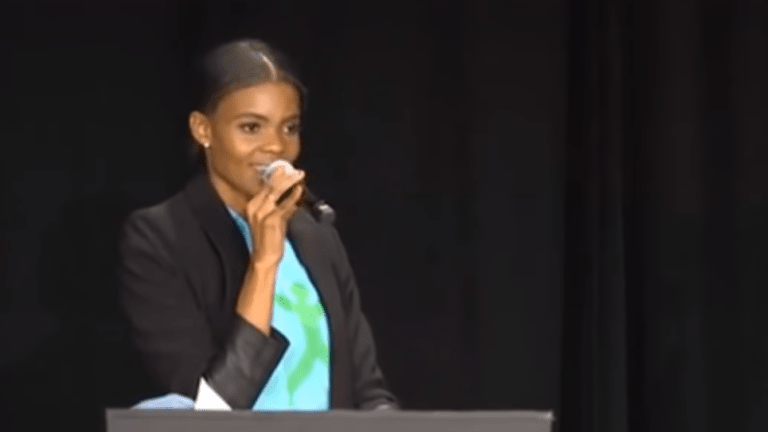 Trump-Supporting Candace Owens Wants Our Sympathy After Kanye Shun
Republican pundit and avid Trump-supporter, Candace Owens is feeling salty following Kanye West's public denouncement of her clothing line.
As we reported earlier today, West took to his Twitter account to accuse Trump supporter Owens of using him. Many felt that West was speaking on the president.
"I introduced Candace to the person who made the logo and they didn't want their name on it so she used mine," West tweeted. "I never wanted any association with Blexit. I have nothing to do with it."
But Owens is taking West's rejection personally, taking to social media to lick her wounds.
In a blog post titled '808s and Heartbreak' she wrote.
"Let me first say, to those that have relished in my hurt and pain: If knowing that I bleed and that I hurt brings you comfort and celebration— then there is no question that you won last night. Celebrate. Be comforted.
I grew up in one of those storied unstable homes. I experienced more hurt before I turned 10 years old then most will experience over a lifetime. Listening to music from Kanye West and Jay-Z is what I give credit to having kept my spirit alive on some of the very worst days. It's a crazy thing to know that you wake up one day and someone whose words and lyrics literally kept your spirit alive is suddenly your friend. God is good.
There are so many people in this world who love Kanye West because they know he is great and powerful and cool, but not every person in this world knows what it means to have someone's rap lyrics literally save you.
The people that attended the BLEXIT launch do, however. The emotion in that room was real and was raw, and to them – like to me – Kanye is a literal superhero."
The lengthy post goes on for quite some time, but she denies ever saying that West designed her line.
"I never once said that Kanye designed the t-shirts for BLEXIT. This is a lie that seems to have made its way around the world; a lie I would like to again correct for the record. Kanye was completely right to feel used in that regard and as I have done personally, I would like to publicly apologize to him for any undue stress or pain the effort to correct that rumor has caused him, his business relationships, or his family. He simply never designed them..."
I am a leader, and I would like to lead in this moment by stating that any and all confusion relating to this topic is therefore my fault, entirely."
Her denial is startling considering there is actual video footage of her saying exactly that and using his image in her promotional video for her launch. So, much like her commander-in-chief, she is well-versed in lying.
Boo, hoo!