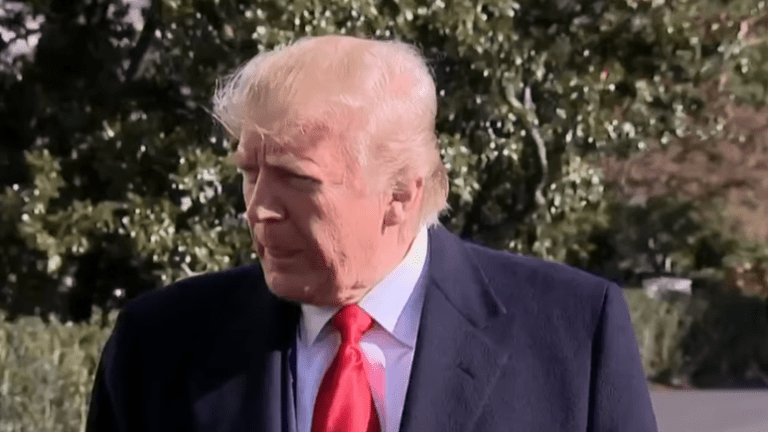 Trump sued for defamation by alleged rape victim
A woman who alleged that President Trump of raped her 23 years ago in a New York department store filed a lawsuit against him on Monday over statements he made in June denying that the attack occurred.
In true Trump fashion, he also ripped into her for coming forward.
Elle magazine columnist, E. Jean Carroll, said in a complaint filed in a New York state court in Manhattan that Trump lied about attacking her, and "smeared her integrity, honesty, and dignity" by concocting a "swarm of related lies." 
The alleged rape took place at Bergdorf Goodman on Fifth Avenue, between the autumn of 1995 and the spring of 1996. The account had been published in New York magazine, which was taken from her memoir released the following month.
"I'll say it with great respect: Number one, she's not my type. Number two, it never happened. It never happened, OK?" Trump told The Hill at the time, adding that Carroll was "totally lying."
"She is trying to sell a new book -- that should indicate her motivation. It should be sold in the fiction section. Shame on those who make up false stories of assault to try to get publicity for themselves, or sell a book, or carry out a political agenda," Trump stated.
But Carroll maintains that she is telling the truth:
"Trump knew that these statements were false; at a bare minimum, he acted with reckless disregard for their truth or falsity," the lawsuit reads. "Trump had recognized Carroll on sight at Bergdorf Goodman. He knew who she was when he raped her, and he knew who she was in 2019. He certainly knew that she was telling the truth."
"After he lied about attacking her, he surrounded that central lie with a swarm of related lies in an effort to explain why she would invent an accusation of rape. To do so, he smeared her integrity, honesty, and dignity – all in the national press," the suit reads.
Trump continues to deny the allegations.
"The lawsuit is frivolous, and the story is a fraud - just like the author," White House Press Secretary Stephanie Grisham said in a statement. "The story she used to try and sell her trash book never happened, period."