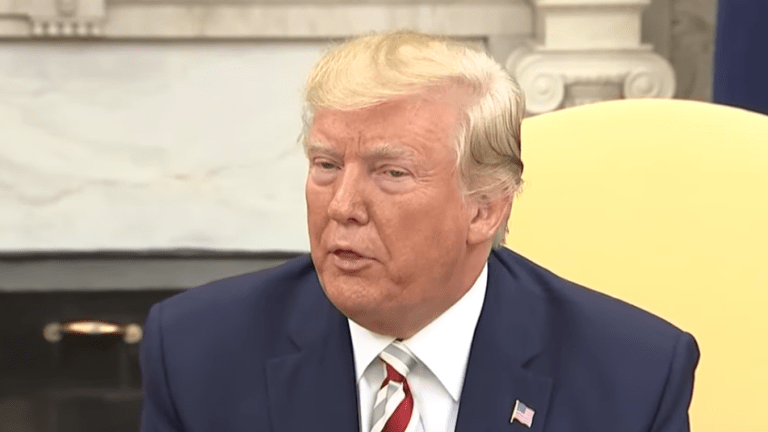 Trump Sparks Outrage after comments questioning Jewish voters' 'loyalty'
President Trump sparked outrage on Tuesday when he bizarrely claimed that Jewish people who vote for Democrats are either ignorant or disloyal.
His speech was targeted at progressive congresswomen, Rashida Tlaib (D-Mich.) and Ilhan Omar  (D-Minn.):
"I think Jewish people that vote for a Democrat — I think it shows either a total lack of knowledge or great disloyalty," Trump told reporters during an Oval Office meeting with the president of Romania.
Both Reps are the first Muslim women to ever be voted into congress and have heavily criticized Israel's treatment of Palestine.
After Israel barred the politicians from visiting the country in any official capacity, Omar called for their aid to be pulled.
"The concept of even talking about this ... of cutting off aid to Israel because of two people that hate Israel and hate Jewish people, I can't believe we're even having this conversation," Trump said in response.
"Where has the Democratic Party gone?" he continued. "Where have they gone ... where they're defending these two people over the state of Israel?"
But Jewish groups have taken exception to Trump's claims of disloyalty.
"This is yet another example of Donald Trump continuing to weaponize and politicize anti-Semitism. At a time when anti-Semitic incidents have increased — due to the president's emboldening of white nationalism — Trump is repeating an anti-Semitic trope," said Halie Soifer, the Jewish Democratic Council of America's executive director per The Hill.
The American Jewish Committee also slammed Trump's remarks:
"Enough, Mr. President. American Jews – like all Americans – have a range of political views. Your assessment of their knowledge or loyalty, based on their party preference, is divisive, disrespectful, and unwelcome. Please stop," they tweeted.