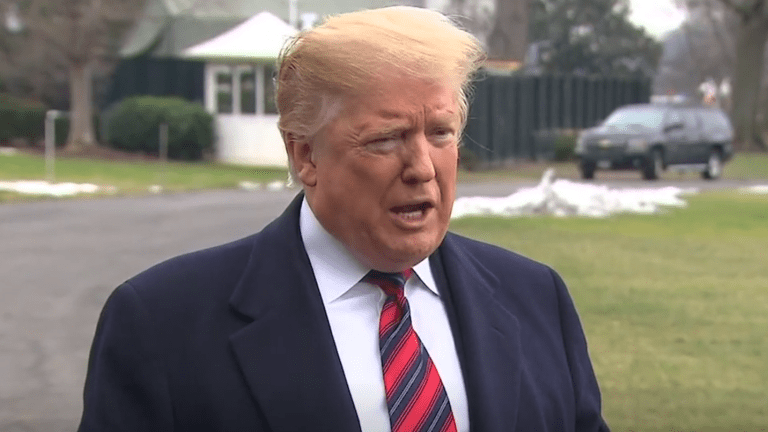 Trump Slams McCabe's '60 Minutes' Interview: "He was fired for lying"
President Trump has slammed former FBI Deputy Director Andrew McCabe of lying during a recent interview.
McCabe sat down with '60 Minutes' where he revealed that during his time with the Department of Justice, officials reportedly discussed the possibility of removing Trump via the 25th Amendment. 
He also claimed that he was dismissed due to the probes he opened into the president. 
Trump did not take kindly to McCabe's revelations and slammed his via Twitter, accusing him of planning a "very illegal act."
"Wow, so many lies by now disgraced acting FBI Director Andrew McCabe. He was fired for lying, and now his story gets even more deranged. He and Rod Rosenstein, who was hired by Jeff Sessions (another beauty), look like they were planning a very illegal act, and got caught."
He continued:
"There is a lot of explaining to do to the millions of people who had just elected a president who they really like and who has done a great job for them with the Military, Vets, Economy and so much more... This was the illegal and treasonous 'insurance policy' in full action!" 
McCabe also alleged that the Deputy Attorney General Rod Rosenstein had offered to wear a wire around the president but a spokesperson for McCabe has since recanted the allegations stating that McCabe did not"participate in any extended discussions about the use of the 25th Amendment, nor is he aware of any such discussions."
Rosenstein also called the reports"inaccurate and factually incorrect."
In an extended interview with CBS that aired on Sunday, McCabe said he thinks he "was fired because I opened a case against the president of the United States." 
McCabe also sat down with NPR, where he spoke about Trump's close ties with Russia.
"I don't know that we have ever seen in all of history an example of the number, the volume and the significance of the contacts between people in and around the president, his campaign, with our most serious, our existential international enemy: the government of Russia," McCabe told NPR's 'Morning Edition'. 
"That's just remarkable to me."