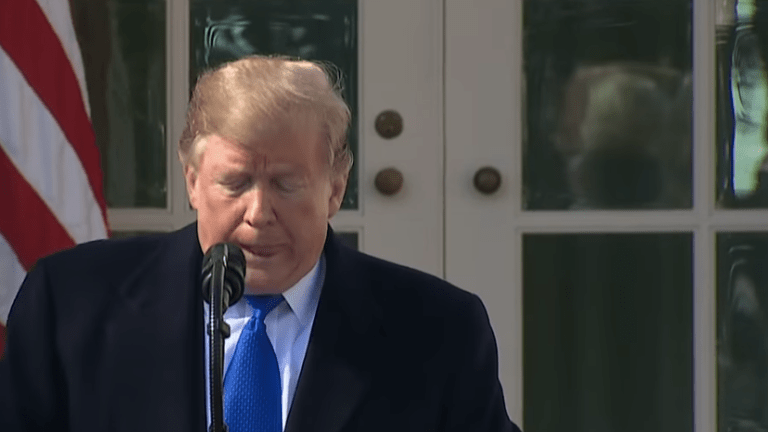 Trump slams Dems over border emergency lawsuits
President Trump hopped on Twitter to blast the Democrats for rallying to block his declaration of a national emergency in federal court.
"As I predicted, 16 cities, led mostly by Open Border Democrats and the Radical Left, have filed a lawsuit in, of course, the 9th Circuit! California, the state that has wasted billions of dollars on their out of control Fast Train, with no hope of completion, seems in charge!" Trump wrote.
"The failed Fast Train project in California, where the cost overruns are becoming world record setting, is hundreds of times more expensive than the desperately needed Wall!" he added continued.
Well, Trump is right about one thing. He did predict a slew of lawsuits during his declaration but that's only because the motion was so ludicrous, to begin with.
Teusday morning, 16 states filed a lawsuit in the U.S. District Court for the Northern District of California seeking to block Trump's funding for Trump's souther border barrier.
Fifteen of the 16 states are governed by the Democrats.
".@realDonaldTrump's unlawful declaration over a crisis that does not exist does great violence to our Constitution and makes America less safe, stealing from urgently needed defense funds for the security of our military and our nation," Speaker of the House, Nancy Pelosi tweeted last week.
California Attorney General spoke to ABC about Trump's fake national emergency:
"He did not have to call this an emergency," Becerra said on ABC's 'This Week.' 
"It's become clear that this is not an emergency, not only because no one believes it is, but because Donald Trump himself has said it's not."
"He has also said he knows he's going to lose in court," he continued. "And he's hoping that he can count on a conservative court in the Supreme Court to give him a victory because he knows he's going to lose all the way up the ladder of the federal court system."