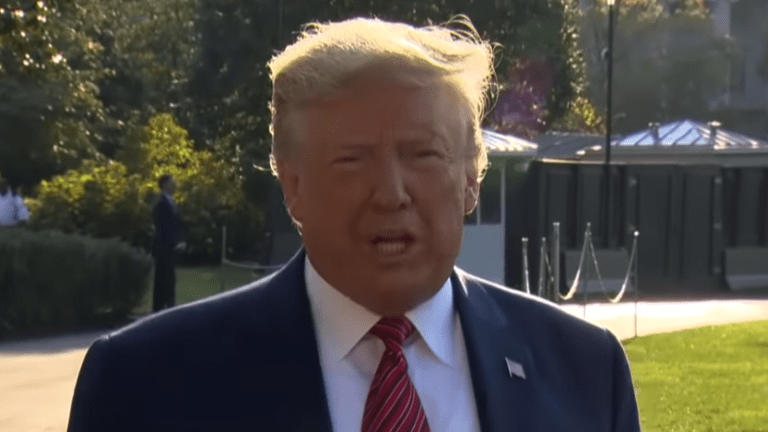 Trump slammed for comparing Impeachment Inquiry to 'Lynching'
President Donald Trump had Twitter in disbelief on Tuesday after he posted a tweet, comparing the impeachment inquiry to "lynching."
"So some day, if a Democrat becomes President and the Republicans win the House, even by a tiny margin, they can impeach the President, without due process or fairness or any legal rights," he wrote. "All Republicans must remember what they are witnessing here - a lynching."
His tweet whipped up a firestorm, and sparked a heated debate around race so intense - that even the Republican usual suspects distanced themselves from his remarks:
"Given the history of our country, I would not compare this to a lynching," Senate Majority Leader Mitch McConnell (R-Ky.) told reporters Tuesday. "That was an unfortunate choice of words."
"That's not the language I would use," said House Minority Leader Kevin McCarthy (R-Calif.) at his weekly news conference. "I don't agree with that language, pretty simple."
"You are comparing a constitutional process to the PREVALENT and SYSTEMATIC brutal torture of people in THIS COUNTRY that looked like me?" tweeted Rep. Karen Bass (D-Calif.), chairwoman of the Congressional Black Caucus.
Rep. Adam Kinzinger (R-Ill.) urged Trump to delete the controversial tweet.
"We can all disagree on the process, and argue merits. But never should we use terms like "lynching" here," tweeted Kinzinger, who has been increasingly critical of Trump. "The painful scourge in our history has no comparison to politics, and @realDonaldTrump should retract this immediately. May God help us to return to a better way."
Trump has not recanted his original comments.