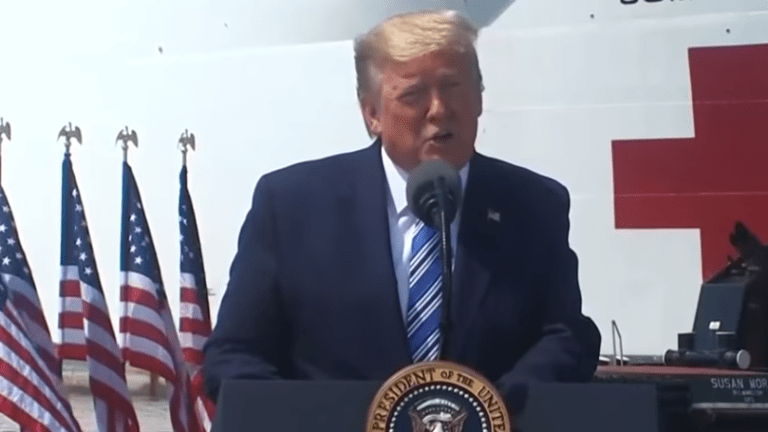 Trump slammed for boasting about his COVID-19 update ratings
President Donald Trump was slammed online after he hopped onto Twitter and boasted about the ratings his daily COVID-19 updates have been receiving.
"Because the "Ratings" of my News Conferences etc. are so high, "Bachelor finale, Monday Night Football type numbers" according to the @nytimes, the Lamestream Media is going CRAZY. "Trump is reaching too many people, we must stop him." said one lunatic. See you at 5:00 P.M.!" he tweeted.
The tweet comes as several news outlets have stated that they would not be covering his news conferences due to the high amount of misleading information Trump has been feeding Americans.
More than 2,000 people in the United States are dead and at least 135,000 have confirmed cases of COVID-19. Trump's daily press briefings have attracted approximately 8.5 million viewers -- but instead of focusing on the issue, Trump has launched tirades against the media and political opponents.
"On Monday, nearly 12.2 million people watched Mr. Trump's briefing on CNN, Fox News and MSNBC, according to Nielsen — 'Monday Night Football' numbers. Millions more are watching on ABC, CBS, NBC and online streaming sites, and the audience is expanding. On Monday, Fox News alone attracted 6.2 million viewers for the president's briefing — an astounding number for a 6 p.m. cable broadcast, more akin to the viewership for a popular prime-time sitcom," his tweets continued.
Trump has been criticized for his tweets, but one must remember that Trump was not a politician before he was elected into office. He was a businessman who made his name as the host of a reality television show.