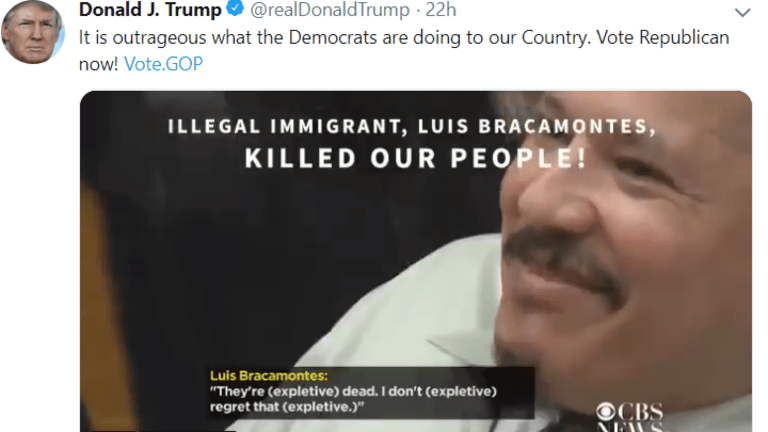 Trump Shares Racist Ad Taking Aim at Immigrants
President Trump has come under fire after sharing racist ad attacking immigrants on his personal Twitter account earlier today.
With the mid-terms just days away, Republicans grow more desperate, and their new ad takes aim at not only the Democrats but Mexicans and the immigration system. The ad infers that Democrats' seemingly weak stance on immigration is costing the lives of law-abiding citizens of the U.S. CNN calls the ad "the most racially charged national political ad in 30 years."
The Trump funded campaign comes just days after Trump's revelation that he will be seeking to revoke birthright citizenship, a move that many claim is unconstitutional.
The video features footage of Luis Bracamontes. Bracamontes had been deported twice by the Democratic administration but had returned to the country illegally.
 In February, he was convicted of killing two California deputies.
"I'm going to kill more cops soon." 
The video is captioned: "Illegal immigrant, Luis Bracamontes, killed our people! Democrats let him into our country. Democrats let him stay."
"This is distracting, divisive Donald at his worst," Democratic National Committee Chairman Tom Perez said on CNN's 'Cuomo Prime Time'.
"This is fear mongering. ... They have to fear monger and his dog whistle of all dog whistles is immigration. This has been Donald Trump's playbook for so long.
"The way you solve this problem is by building relationships with countries in the region. But when you demonize Latinos every day, you make it harder to solve these problems," Perez said. "That's why you see failures in immigration policy under this administration, because nobody wants to work with our country because you're constantly calling Mexicans 'thugs' and all these other atrocious names. That's why they can't do it."