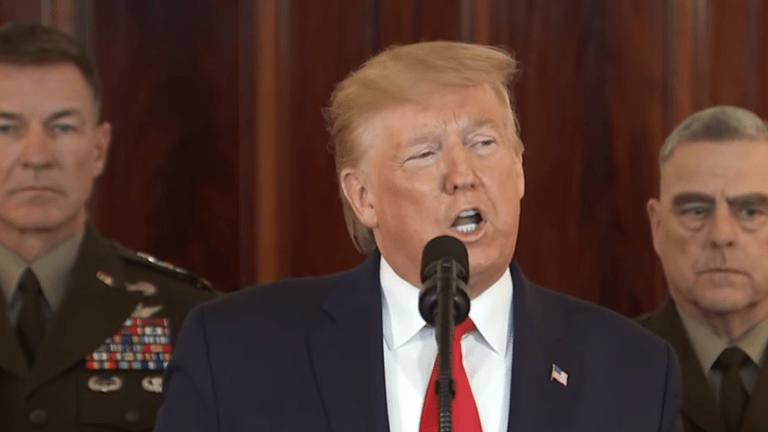 Trump says Iran is 'standing down'
President Trump told American's that they should be "extremely grateful" that Iran "appears to be standing down." 
On Wednesday, Trump addressed the ongoing conflict between the U.S. and Iran and vowed to place new sanctions on Iran following Tuesday night's attack on an Iraqi military base that hosts U.S. forces.
"I'm pleased to inform you: The American people should be extremely grateful and happy no Americans were harmed in last night's attack by the Iranian regime. We suffered no casualties, all of our soldiers are safe, and only minimal damage was sustained at our military bases," Trump told reporters.
"Our great American forces are prepared for anything. Iran appears to be standing down, which is a good thing for all parties concerned and a very good thing for the world," he continued.
"No American or Iraqi lives were lost because of the precautions taken, the dispersal of forces, and an early warning system that worked very well. I salute the incredible skill and courage of America's men and women in uniform."
He then addressed the drone strike which killed Iranianian General Qasem Soleimani.
"Last week, we took decisive action to stop a ruthless terrorist from threatening American lives. At my direction, the United States military eliminated the world's top terrorist, Qasem Soleimani. As the head of the Quds Force, Soleimani was personally responsible for some of the absolutely worst atrocities.
"He trained terrorist armies, including Hezbollah, launching terrorist strikes against civilian targets. He fueled bloody civil wars all across the region. He viciously wounded and murdered thousands of U.S. troops, including the planting of roadside bombs that maim and dismember their victims," he explained.
"Soleimani directed the recent attacks on U.S. personnel in Iraq that badly wounded four service members and killed one American, and he orchestrated the violent assault on the U.S. embassy in Baghdad. In recent days, he was planning new attacks on American targets, but we stopped him.
"Soleimani's hands were drenched in both American and Iranian blood. He should have been terminated long ago. By removing Soleimani, we have sent a powerful message to terrorists: If you value your own life, you will not threaten the lives of our people."
You can listen to Trump's full address above.