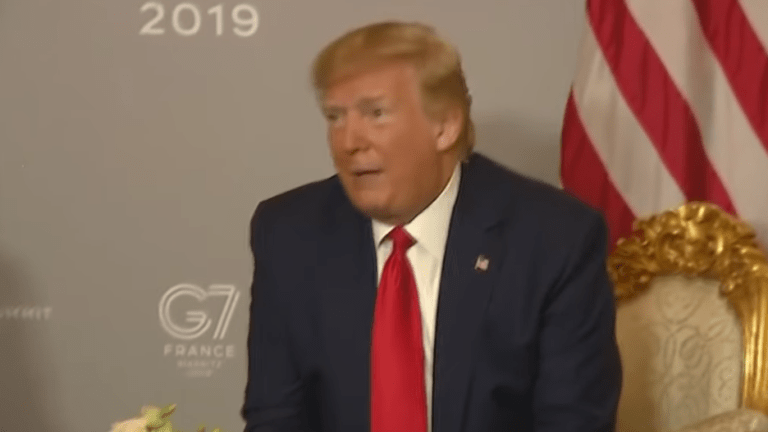 Trump says China wants to "make a deal" over Trade War
President Trump has claimed that Beijing had reached out to his administration to "make a deal" to end the current trade war. 
"China called last night, our top trade people, and said, 'Let's get back to the table,'" Trump told reporters at the G-7 summit in Biarritz, France.
"So, we'll be getting back to the table. And I think they want to do something. They've been hurt very badly, but they understand this is the right thing to do. And I have great respect for it. I have great respect for it. This is a very positive development for the world," Trump continued.
The news comes days after China announced that it would impose as much 10 percent on $75 billion worth of U.S. products in response to President Donald Trump's threats to impose new tariffs on Chinese imports next month.
The Chinese State Council said it decided to hike up the tariffs ranging from 5% to 10% on $75 billion U.S. goods in two batches effective on Sep. 1 and Dec. 15.
It also said a 25% tariff would be imposed on U.S. cars and a 5% on auto parts and components, which will go into effect on Dec.15. These tariffs had been paused in April.
"In response to the measures by the U.S., China was forced to take countermeasures," the Council said in a statement on Friday.
"The Chinese side hopes that the U.S. will continue to follow the consensus of the Osaka meeting, return to the correct track of consultation and resolve differences, and work hard with China to end the goal of ending economic and trade frictions," it added.
Trump had previously stated that he was the "Chosen One" to take on China.
"This isn't my trade war, this is a trade war that should have taken place a long time ago," Trump told reporters outside the White House.
"Somebody had to do it," the president said. "I am the Chosen One." Trump continued: "Somebody had to do it, so I'm taking on China. I'm taking on China on trade, and you know what? We're winning."