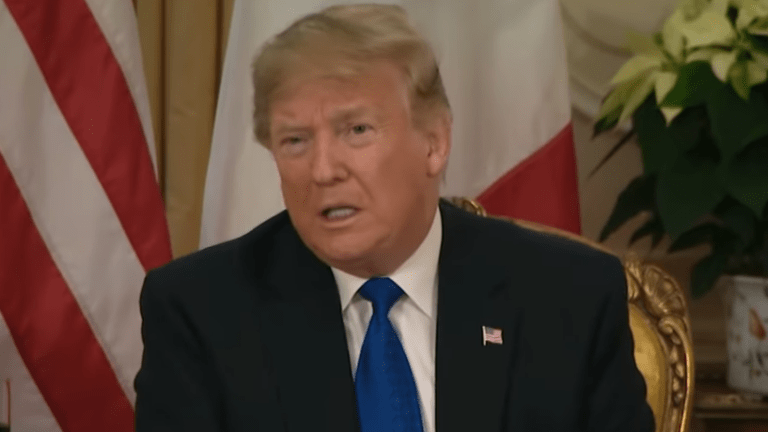 Trump rips into Pelosi over impeachment - again.
President Trump went off the script once again to rip into House Speaker Nancy Pelosi over the looming impeachment proceedings.
"The Radical Left, Do Nothing Democrats said they wanted to RUSH everything through to the Senate because 'President Trump is a threat to National Security' (they are vicious, will say anything!), but now they don't want to go fast anymore, they want to go very slowly. Liars!" Trump from him Mar-a-Lago resort in Palm Beach, Florida.
But he did not stop there.
"Nancy Pelosi's District in California has rapidly become one of the worst anywhere in the U.S. when it come to the homeless & crime. It has gotten so bad, so fast — she has lost total control and, along with her equally incompetent governor, Gavin Newsom, it is a very sad sight!" Trump wrote. "Crazy Nancy should clean up her filthy dirty District & help the homeless there. A primary for N?" he later tweeted.
Trump is frustrated that Pelosi announced that she would not be sending the articles to the Senate, explaining that she can't choose trial managers until she has a clear picture of how the Senate plans to proceed.
"The House cannot choose our impeachment managers until we know what sort of trial the Senate will conduct," Pelosi wrote. "President Trump blocked his own witnesses and documents from the House, and from the American people, on phony complaints about the House process. What is his excuse now?"
The House voted to remove the President from office, charging him with abuse of power and obstruction of Congress. The case will now be sent to the Senate for a trial expected to start next month.
The House voted 230-197 to charge Trump with abuse of power and 229-198 to charge him with obstruction of Congress.