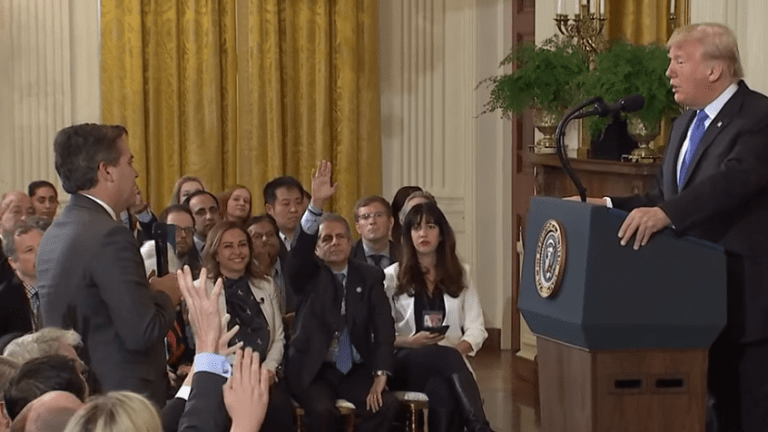 Trump Revokes CNN Repoter's Press Pass; WHCA Calls the Move "Weak and Misguided"
President Trump has revoked the press pass of CNN reporter, Jim Acosta.
The move comes after Acosta challenged Trump over his remarks about the immigrant caravans and his involvement with the Russia probe. Conservatives tried to accuse Acosta of physically assaulting an intern, but video footage exonerates Acosta of any wrongdoing.
In a statement, the White House Correspondents Association blasted the administration for revoking the press credentials of CNN's Jim Acosta and accusing him of assaulting a female intern.
The WHCA "strongly objects to the Trump Administration's decision to use US Secret Service Credentials as a tool to punish a reporter with whom it has a difficult relationship," Oliver Knox, the organization's president, wrote in the statement, continuing that they "use a range of approaches to carry out their jobs and the WHCA does not police the tone or frequency of the questions its members ask of powerful senior government officials, including the President We urge the White House to immediately reverse this weak and misguided action," before encouraging people to watch the video.
White House press secretary Sarah Huckabee Sanders also issued a statement: "President Trump believes in a free press and expects and welcomes tough questions of him and his administration. We will, however, never tolerate a reporter placing his hands on a young woman just trying to do her job as a White House intern. This conduct is absolutely unacceptable."
Acosta's questions about Russia were particularly poignant. Yesterday, attorney general Jim Session handed in his "resignation" after being requested to do so by Trump. Trump then placed Matthew Whitaker as acting attorney general, a known critic of the Mueller investigation. The move means that Whitaker will be overseeing the investigation and not Rod J. Rosenstein, the deputy attorney general.