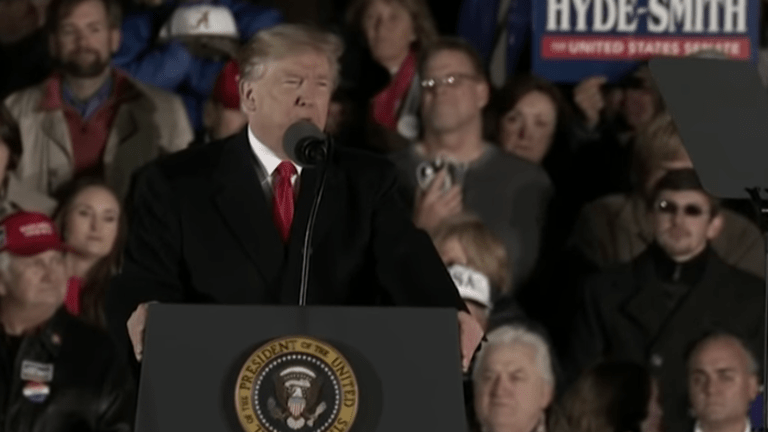 Trump Retweets Meme Depicting Imprisoned Government Officials
President Donald Trump retweeted a meme Wednesday morning which called for the imprisonment of several high profile Democrats and intelligence officials.
Over the image, the text reads:
"NOW THAT RUSSIA COLLUSION IS A PROVEN LIE, WHEN DO THE TRIALS FOR TREASON BEGIN?"
The meme features images of several prominent figures, including special counsel Robert Mueller, Deputy Attorney General Rod Rosenstein, Hillary Clinton, former Attorney General Eric Holder, former President Bill Clinton, former FBI Director James Comey, former Attorney General Loretta Lynch, and several more - all behind bars.
He did not stop there. He then retweeted a video of Hillary Clinton's infamous "All Black people look alike" joke - which didn't go down well at the time.
This morning he also found the time to take yet another jab at Mueller. He wrote:
"While the disgusting Fake News is doing everything within their power not to report it that way, at least 3 major players are intimating that the Angry Mueller Gang of Dems is viciously telling witnesses to lie about facts & they will get relief. This is our Joseph McCarthy Era!"
He then continued his tirade against GM Motors, tweeting:
"The reason that the small truck business in the U.S. is such a go to favorite is that, for many years, Tariffs of 25% have been put on small trucks coming into our country. It is called the "chicken tax." If we did that with cars coming in, many more cars would be built here.....
".....and G.M. would not be closing their plants in Ohio, Michigan & Maryland. Get smart Congress. Also, the countries that send us cars have taken advantage of the U.S. for decades. The President has great power on this issue - Because of the G.M. event, it is being studied now!
"Steel Dynamics announced that it will build a brand new 3 million ton steel mill in the Southwest that will create 600 good-paying U.S. JOBS. Steel JOBS are coming back to America, just like I predicted. Congratulations to Steel Dynamics!"
Is President Trump unraveling?