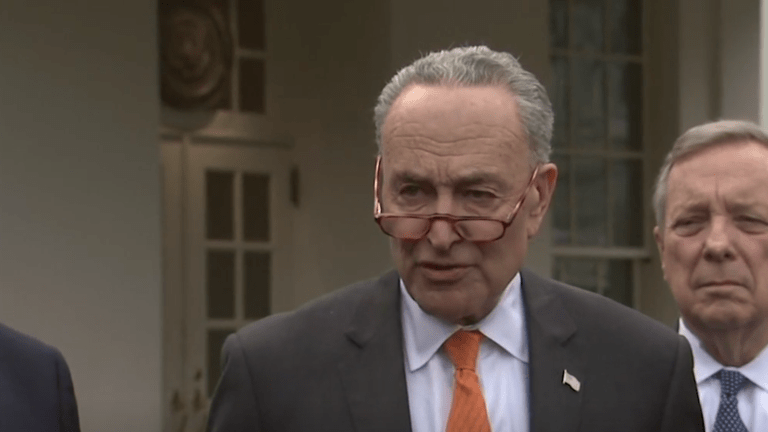 Trump Refers to Schumer as "Cryin Chuck"
Also denies "pounding the table"
President Trump has fired back at claims by Chuck Schumer that he threw a temper tantrum by calling him, "Cryin Chuck."
"Cryin Chuck told his favorite lie when he used his standard sound bite that I 'slammed the table & walked out of the room. He had a temper tantrum.' Because I knew he would say that, and after Nancy said no to proper Border Security, I politely said bye-bye and left, no slamming!" Trump wrote on Twitter.
Trump also denied claims by the Dems that he pounded the table when demanding that his wall be built.
"I didn't pound the table. I didn't pound the table. That is a lie," he said. "All of that narrative is a lie."
Trump was in talks with Schumer and Speaker Nancy Pelosi at the White House but called it a "total waste of time" upon leaving.
The Democratic leaders are trying to get Trump to end the government shutdown, Trump then asked if they would support funding for the wall. Pelosi is reported to have said "No" and Trump immediately left the meeting.
"Again, we saw a temper tantrum because he couldn't get his way and he just walked out of the meeting," Schumer told reporters shortly after the meeting.
Trump hopped on Twitter after the meeting and wrote:
"Just left a meeting with Chuck and Nancy, a total waste of time. I asked what is going to happen in 30 days if I quickly open things up, are you going to approve Border Security which includes a Wall or Steel Barrier? Nancy said, NO. I said bye-bye, nothing else works!"
We are now 20 days into the government shutdown. Trump maintains that the GOP is united despite reports to the contrary.
"There is GREAT unity with the Republicans in the House and Senate, despite the Fake News Media working in overdrive to make the story look otherwise. The Opposition Party & the Dems know we must have Strong Border Security, but don't want to give "Trump" another one of many wins!" he tweeted.