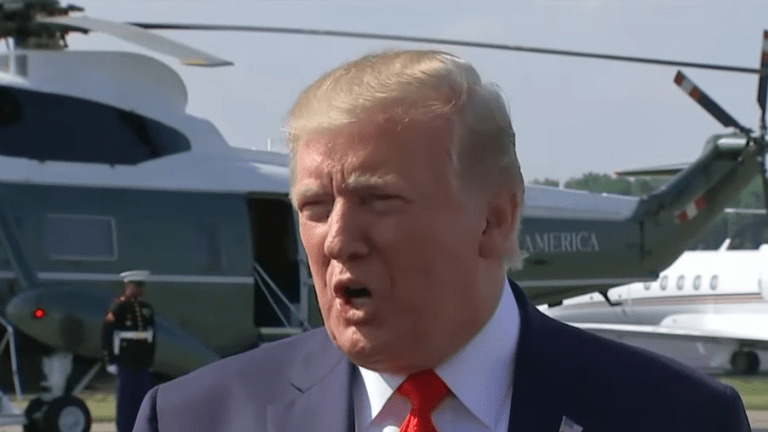 Trump Rages Ahead of Mueller Testimony
President Trump launched a seething attack over Robert Mueller's testimony to Congress hours before the former special counsel was set to appear on Capitol Hill.
"So Democrats and others can illegally fabricate a crime, try pinning it on a very innocent President, and when he fights back against this illegal and treasonous attack on our Country, they call It Obstruction?" Trump tweeted. "Wrong! Why didn't Robert Mueller investigate the investigators?"
The rant comes after it was revealed that one of Mueller's top deputies would accompany him to the hearing as an adviser during his testimony.
"It was NEVER agreed that Robert Mueller could use one of his many Democrat Never Trumper lawyers to sit next to him and help him with his answers," the president tweeted. "This was specifically NOT agreed to, and I would NEVER have agreed to it. The Greatest Witch Hunt in U.S. history, by far!"
He then circled back to Hillary Clinton's emails, even though his daughter, Ivanka Trump was also called out for using her personal email for White House business.
"Why didn't Robert Mueller & his band of 18 Angry Democrats spend any time investigating Crooked Hillary Clinton, Lyin' & Leakin' James Comey, Lisa Page and her Psycho lover, Peter S, Andy McCabe, the beautiful Ohr family, Fusion GPS, and many more, including HIMSELF & Andrew W?" he wrote.
He added:
"So why didn't the highly conflicted Robert Mueller investigate how and why Crooked Hillary Clinton deleted and acid washed 33,000 Emails immediately AFTER getting a SUBPOENA from the United States Congress? She must have GREAT lawyers!"
The Mueller report failed to exonerate Trump alleged collusion with Russia, although it did indicate clearly that Russia interfered with the voting process and that Trump's camp may well have been aware of the intrusion and breach of national security.