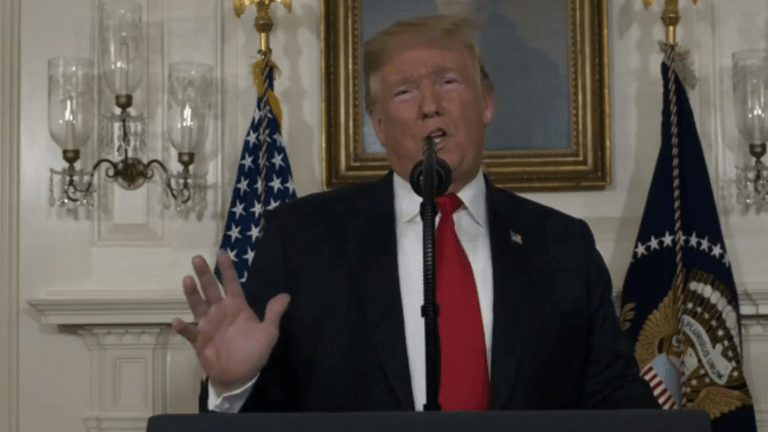 Trump Pitches Temporary DACA Deal to get wall funding
Dems Turn It Down
President Trump offered to extend protections for Deferred Action for Childhood Arrivals (DACA) during a televised speech from the White House in exchange for his southern border wall.
The extension would be for current program recipients for three years and a three-year extension of protections for Temporary Protected Status (TPS) holders.
"Both sides in Washington must simply come together, listen to each other, put down their armor, build trust, reach across the aisle and find solutions [...] Illegal immigration reduces wages and strains public services. The lack of border control provides a gateway, a very wide and open gateway, for criminals and gang members to enter the United States," he said.
He urged everybody to use their "common sense" and to work together with "lots of compromise."
"By incorporating the priorities of rank-and-file Democrats in our plan we hope they will over their enthusiastic support. ... This is a common sense compromise both parties should embrace. The radical left can never control our borders," he said.
The offer was backed by Senate Majority Leader Mitch McConnell:
"With bipartisan cooperation, the Senate can send a bill to the House quickly so that they can take action as well. The situation for furloughed employees isn't getting any brighter and the crisis at the border isn't improved by show votes. But the President's plan is a path toward addressing both issues quickly," McConnell said in a statement. 
But the Democrats are not biting:
"Democrats were hopeful that the President was finally willing to re-open government and proceed with a much-need discussion to protect the border. ... It is unlikely that any one of these provisions alone would pass the House, and taken together, they are a non-starter," Speaker Nancy Pelosi said in a statement released before Trump's speech.
Senate Minority Leader Charles Schumer (D-N.Y.) released the following statement shortly after the address:
"It was President @realDonaldTrump who single-handedly took away DACA and TPS protections in the first place—offering some protections back in exchange for the wall is not a compromise but more hostage taking," he tweeted.
The shutdown continues.