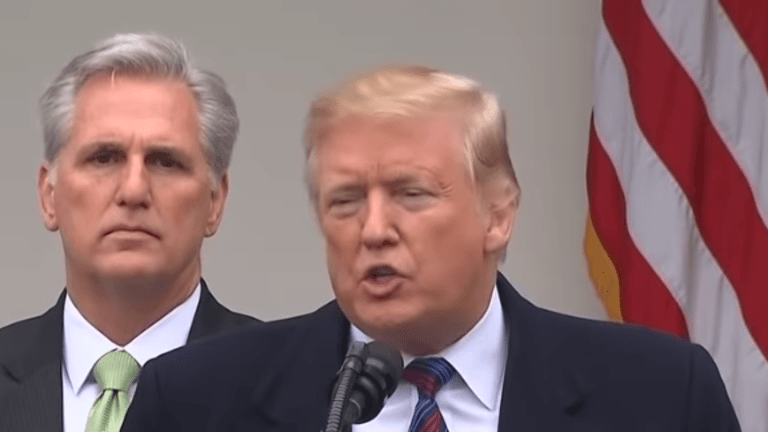 Trump on Government Shutdown: "No Cave!"
President Trump is still refusing to give in to calls that he ends the government shutdown.
On Twitter Tuesday morning, he posted the following tweet:
"Without a Wall our Country can never have Border or National Security. With a powerful Wall or Steel Barrier, Crime Rates (and Drugs) will go substantially down all over the U.S. The Dems know this but want to play political games. Must finally be done correctly. No Cave!"
Lawmakers are still at an impasse over whether to fund the proposed border wall even as a partial government shutdown enters its 32nd day. A new Senate bill including Trump's DACA deal to reopen the government will likely fail this week. If it fails, government workers will not receive another paycheck this week.
He also denied that the GOP are divided over the issue, stating:
"Never seen @senatemajldr and Republicans so united on an issue as they are on the Humanitarian Crisis & Security on our Southern Border. If we create a Wall or Barrier which prevents Criminals and Drugs from flowing into our Country, Crime will go down by record numbers!"
Democrats are also refusing to budge, they have offered money for other border security measures, but are refusing to agree to cash for his southern border which they see as a waste of time and funds.
Trump also revealed that he ordered White House press secretary Sarah Huckabee Sanders to cease regular briefings due to rude treatment from the media.
"The reason Sarah Sanders does not go to the 'podium' much anymore is that the press covers her so rudely & inaccurately, in particular certain members of the press. I told her not to bother, the word gets out anyway!"