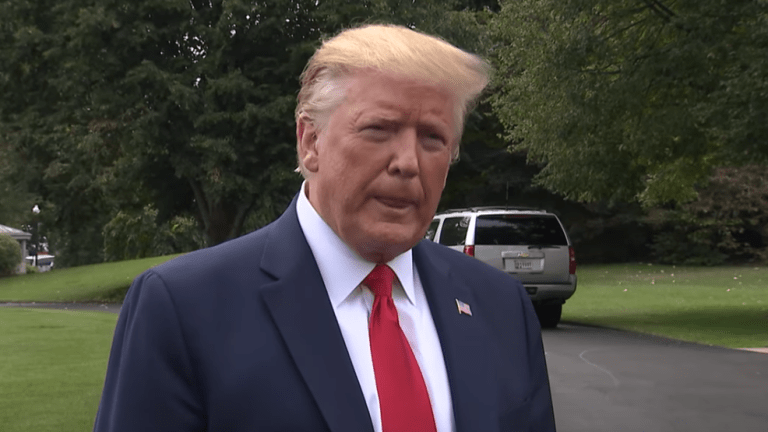 Trump: 'I demand to meet my accuser'
President Trump is demanding to meet the White House whistleblower who is front and center of the current Ukraine scandal which led to the Democrats launching an official impeachment inquiry against him.
"Like every American, I deserve to meet my accuser, especially when this accuser, the so-called 'Whistleblower,' represented a perfect conversation with a foreign leader in a totally inaccurate and fraudulent way," Trump tweeted on Sunday.
"His lies were made in perhaps the most blatant and sinister manner ever seen in the great Chamber. He wrote down and read terrible things, then said it was from the mouth of the President of the United States. I want Schiff questioned at the highest level for Fraud & Treason," Trump said.
His words have been interpreted by some as a threat to the whistleblower's safety. A sentiment echoed by the whistleblower's lawyer.
Lawyers for the whistleblower sent a letter to the acting Director of National Intelligence Joseph Maguire on Saturday outlining "serious" safety concerns for their client per CNN.
"The purpose of this letter is to formally notify you of serious concerns we have regarding our client's personal safety," the letter says, adding that recent comments by Trump are reason for "heightened" concern.
Last week, the Trump administration released five pages of the transcript of the president's Jul. 25 phone call with Ukrainian President Volodymyr Zelensky, where he urged Zelensky to probe into presidential candidate and former Vice President Joe Biden and Biden's son, Hunter.
In a statement, Justice Department spokesperson Kerri Kupec said that the Justice Department had determined that "there was no campaign finance violation and that no further action was warranted."
"In August, the Department of Justice was referred a matter relating to a letter the director national intelligence had received from the inspector general for the intelligence community regarding a purported whistleblower complaint. The inspector general's letter cited a conversation between the president and Ukrainian President Zelensky as a potential violation of federal campaign finance law, while acknowledging that neither the inspector general nor the complainant had firsthand knowledge of the conversation," Kupec said.