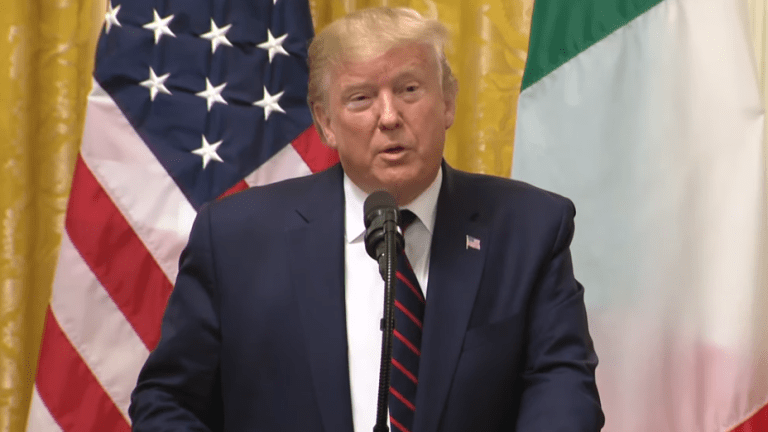 Trump defends decision to move US troops out of Syria: 'Nothing to do with us'
President Donald Trump has defended his decision to move US troops out of Syria ahead of a looming Turkish invasion, but for most - the only message that rang loud and clear is that the upcoming war is not the U.S.' problem.
Trump was seated next to Italian President Sergio Mattarella at the White House during a press conference, where he rattled out his reasons for the retreat, which some say puts the country at risk of a nuclear war. He doubled down on his decision, stating that it "has nothing to do with us."
Trump allowed Turkish armed forces to attack members of the Syrian Democratic Forces in the fight against ISIS in Syria. But Syria is a longtime ally of the country.
"They've been warring for many years. It's unnatural for us, but it's sort of natural for them. They fight, and they fight long, and they fight hard, and they've been fighting Syria for a long time and on the border. That's the border with Syria. I say, why are we protecting Syria's land? [Syrian President Bashar al-Assad is] not a friend of ours. Why are we protecting their land?" he rambled.
The president continued: "And Syria also has a relationship with the Kurds, who, by the way, are no angels, okay? Who is an angel? There aren't too many around. But Syria has a relationship with the Kurds, so they'll come in for their border, and they'll fight. They may bring partners in. They could bring Russia in, and I say welcome to it. Russia went into Afghanistan when it was the Soviet Union, and it became Russia. It became a much smaller country because of Afghanistan."
Many reporters were left scratching their heads, trying to decipher Trump's explanation.
"You can overextend you can do a lot of things. But frankly, if Russia is going to help in protecting the Kurds, that's a good thing, not a bad thing. Syria doesn't want Turkey to take its land. I can understand that. What does that have to do with the United States of America? Syria does have a relationship with the Kurds."
The bottom line, he's not interested in keeping the peace or maintaining the relationships the nation has with its international allies.