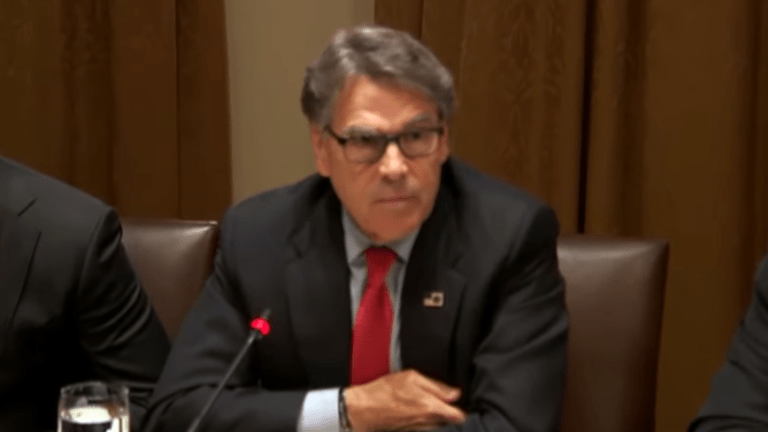 Trump confirms Rick Perry to step down as Energy secretary
Energy Secretary Rick Perry will step down from his Cabinet post at the end of the year, Trump confirmed on Thursday.
"Rick and I have been talking for six months. In fact, I thought he might go a bit sooner. But he's got some very big plans. He's going to be very successful. We have his successor, we'll announce it pretty soon," Trump said at a ribbon-cutting event at a Louis Vuitton factory in Alvorado, Texas.
Trump referred to the former Texas governor as a "very good friend of mine," adding, "I'm going to miss you so much."
"We'll be announcing the replacement, and he — I think it's a he in this particular case — I think he'll do a fantastic job," Trump added. "We worked on that together. Right, Rick?"
Perry's involvement in Trump's efforts to persuade Ukraine to investigate political rival former Vice President Joe Biden's son Hunter, who once sat on the board of a Ukrainian energy company.
Perry, alongside former special envoy Kurt Volker and Gordon Sondland, the U.S. ambassador to the European Union, were reportedly the impetus for the controversial July 25 call with Ukrainian President Volodymyr Zelensky.
"Not a lot of people know this, but, I didn't even want to make the call. The only reason I made the call was because Rick asked me to," Trump, he said earlier this month per Axios.
And for some, his resignation could not come soon enough:
"I once believed Secretary Perry was one of the more upstanding members of the cabinet. Now we are learning that he was directly involved in the criminal wrongdoing of this Administration with respect to Ukraine," said Rep. Paul Tonko (D-N.Y.), a member of the House Energy and Commerce Committee.
"If he has knowledge or evidence of criminal actions, he needs to disclose it, and if he broke the law, he needs to come forward and accept the consequences."