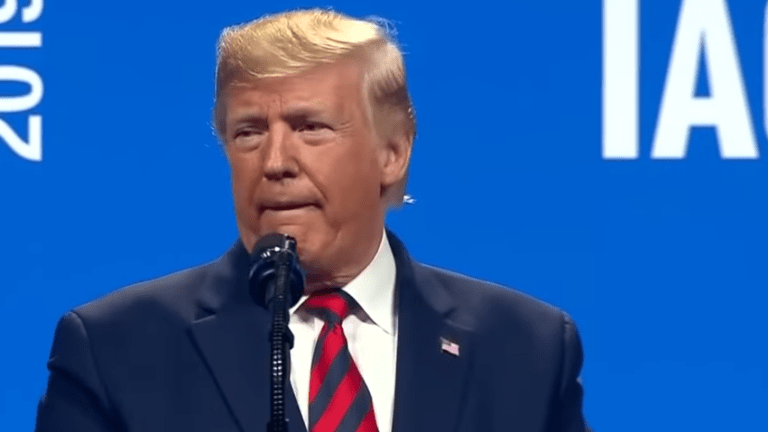 Trump compares Jussie Smollett 'scam' to impeachment
President Trump on Monday compared the now-infamous alleged hate crime hoax by Jussie Smollett to the current impeachment process, dismissing them both as a "scam."
Trump made the ludicrous comparison during his recent visit to Chicago.
"Then you have the case of this wise guy, Jussie Smollett, who beat up himself," Trump said. "And he said MAGA country did it -- MAGA country ... That's a hate crime, and it's a scam. It's a real big scam, just like the impeachment of your president is a scam."
As the impeachment inquiry rolls on, Trump is still heavily focused on winning the 2020 election. And as we already know, Trump isn't too fussed about presenting the facts. He has used spin and propaganda to propel his current campaign, much like his 2016 rollout.
"Smollett is still trying to get away with it. He would have been better off if he paid his $100,000 bill," Trump continued.
The city of Chicago is currently seeking to recover more than $130,000 to cover police overtime during the investigation of Smollett's report. The actor has refused for months to pay the city, even filing to have the case dismissed. But a judge ruled that Chicago could move forward with their lawsuit.
Chicago Mayor Lori Lightfoot slammed Trump's disparaging remarks against the city on Twitter:
"It's no surprise that @realDonaldTrump brought his insulting, ignorant buffoonery to Chicago. Luckily, in this city, we know the truth and we will not let anyone — no matter how high the office — denigrate who we are as a people or our status as a welcoming city," Lightfoot tweeted following Trump's speech.