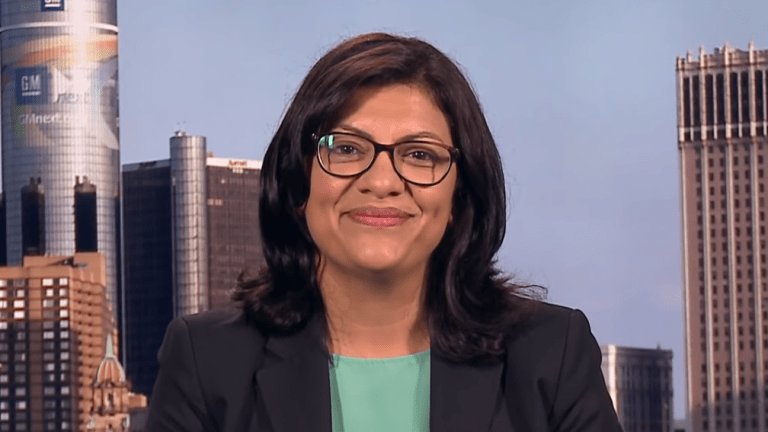 Trump attacks Rep. Rashida Tlaib over Israel remarks
President Trump has once again attacked Rep. Rashida Tlaib on Twitter, accusing her of "hatred of Israel and Jewish people."
"Democrat Rep. Tlaib is being slammed for her horrible and highly insensitive statement on the Holocaust. She obviously has tremendous hatred of Israel and the Jewish people. Can you imagine what would happen if I ever said what she said, and says?" he tweeted on Monday morning.
The tweet was in response to an interview Tlaib sat down for with Yahoo News:
"There's, you know, there's a kind of a calming feeling, I always tell folks, when I think of the Holocaust and the tragedy of the Holocaust, and the fact that it was my ancestors — Palestinians — who lost their land and some lost their lives, their livelihood, their human dignity, their existence, in many ways, had been wiped out. . . . I mean, just all of it was in the name of trying to create a safe haven for Jews, post-the Holocaust, post-the tragedy and the horrific persecution of Jews across the world at that time," Tlaib said.
"I love the fact that it was my ancestors that provided that [safe haven], in many ways," Tlaib continued. "But they did it in a way that took their human dignity away, right? And it was forced on them. And so, when I think about one-state, I think about the fact that, why couldn't we do it in a better way?"
Trump tweet to Tlaib is seen by some as an effort for him to try and distract people from the high tariff's China is about to hit the country with following Trump's poor decision to hike tariff's against the country.
But Tlaib is not falling for the far-right's agenda to paint her as an anti-Semite.
"Policing my words, twisting & turning them to ignite vile attacks on me will not work. All of you who are trying to silence me will fail miserably. I will never allow you to take my words out of context to push your racist and hateful agenda. The truth will always win," she tweeted.