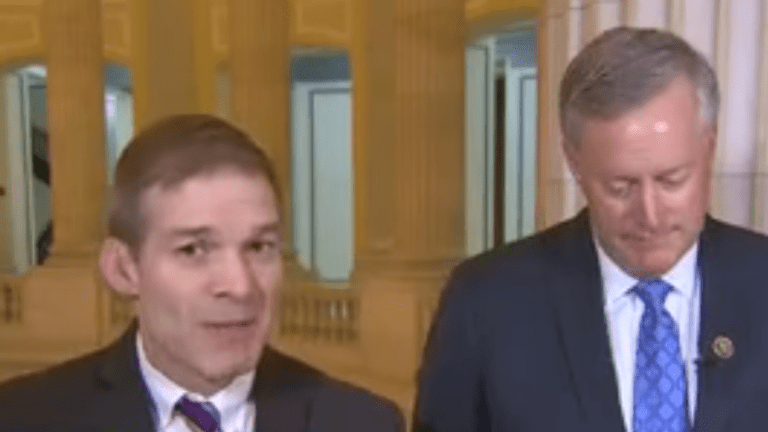 Trump allies ask Justice Department to investigate Michael Cohen for perjury
Two Republican lawmakers are requesting that Trump's former "fixer," Michael Cohen, be investigated for perjury.
Ohio Rep. Jim Jordan, the top Republican on the Oversight Committee, and North Carolina Republican Rep. Mark Meadows questioned Cohen doggedly during his public testimony on Wednesday, with Meadows was even slammed for using a Black woman as a "prop" to refute Cohen's claims that Trump is a racist.
The two Republicans are dear allies of Trump and have referred Cohen, to the Justice Department Thursday for possible criminal prosecution, claiming to have evidence that Cohen "committed perjury and knowingly made false statements" to lawmakers during his day-long testimony Wednesday.
Jordan accused Cohen of being slighted that he was not offered a job in the White House, but Cohen denied the accusation.
"I was extremely proud to be the personal attorney for the President of the United States of America. I did not want to go to the White House," he said during the hearing.
But the reps claim that court filings from prosecutors in the Southern District of New York that stated Cohen "privately told friends and colleagues, including in seized text messages, that he expected to be given a prominent role and title in the new administration." 
"Mr. Cohen's testimony is material to the Committee's assessment of Mr. Cohen's motive to monetize his former association with President Trump," Jordan and Meadows wrote to the Justice Department per CNN.
"It is essential that the Department of Justice investigate these remarkable contradictions between Mr. Cohen, the SDNY prosecutors, and the public accounts of witnesses with firsthand information."
"Mr. Cohen testified truthfully before the House Oversight Committee. He took full responsibility for his guilty pleas. He also backed up much of his testimony with documents. It may not be surprising that two pro-Trump Committee members known have a baseless criminal referral," Cohen's attorney, Lanny Davis said in a statement on Thursday.