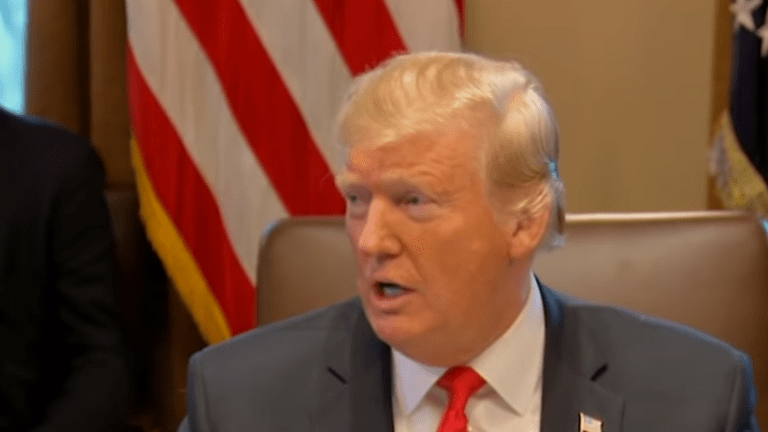 Trump Accuses Dems of using Shutdown to Secure 2020
Trump has accused the Democrats of using the government shutdown to secure the 2020 election.
"The Shutdown is only because of the 2020 Presidential Election. The Democrats know they can't win based on all of the achievements of "Trump," so they are going all out on the desperately needed Wall and Border Security - and Presidential Harassment. For them, strictly politics!" he tweeted Thursday morning.
Before posting this tweet, mocking Elizabeth Warren's presidential bid.
During a Cabinet meeting on Wednesday, Trump spoke about the shutdown and said that it would go on for "as long as it takes." 
"I think the people of the country think I'm right," Trump said. The shutdown is now into its 13th day but Trump has no interest in signing any deal unless he gets his $5 billion border wall.
"Democrats need to stand up for American values and a check on Trump, over and over again, as many times as they have to, to defeat the worst policies of this administration," Charles Chamberlain, chairman of Democracy for America said. "That's what we're expecting them to do and if there's brinksmanship from Trump that causes damage to America, that's on Trump."
Heidi Hess, the co-director of CREDO Action, another grassroots liberal advocacy group, are backing the Dems. 
"We just don't see any reason why Democrats should be compromising," she said. "This is Trump's shutdown over a wall that is going to do nothing, that he promised Mexico would pay for.
"We actually have an opportunity and a mandate as Democrats and progressives to really show what we stand for and how we're willing to stand up for our values and not compromise them," she said. "It's certainly our belief that what Pelosi and Schumer should do."