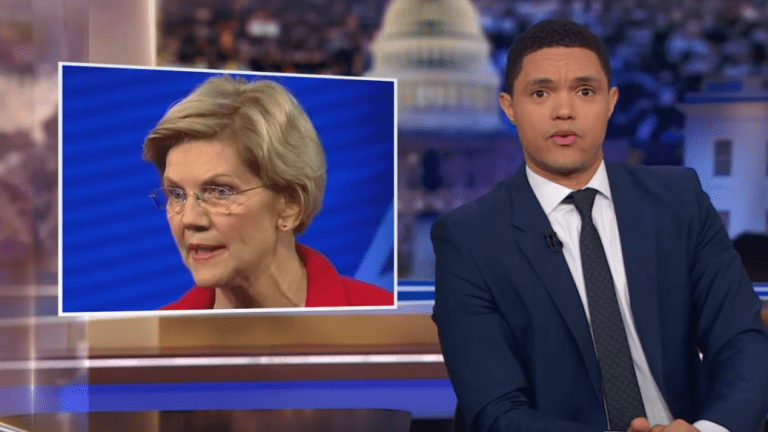 Trevor Noah mocks Sen. Elizabeth Warren over reparations stance
Trevor Noah mocked Sen.Elizabeth Warren's stance on slavery reparations during a recent airing of 'The Daily Show.'
Several 2020 Democratic presidential candidates have been semi-tackling the issue in the hopes of currying favor with the African American community, but Noah noticed that some of the candidates while addressing the issue, appear to be attempting to avoid in the same breath
"Let's talk about slavery," the comedian joked. "No, White people, come back!"
He then joked about "every one of the 89 Democrats running for president [who] have gotten on board," when it comes to the topic of reparations.
Sens. Elizabeth Warren (D-Mass.) and Kamala Harris (D-Calif.) are seemingly supportive of the prospect of repaying the African descendants of slaves in America.
"We must confront the dark history of slavery and government-sanctioned discrimination in this country that has had many consequences including undermining the ability of Black families to build wealth in America for generations," Warren said in a statement to Reuters last month.
"Black families have had a much steeper hill to climb - and we need systemic, structural changes to address that," she said in the statement.
But Noah is not buying it.
"I have my eye on you, Elizabeth Warren. I feel like as soon as reparations have passed, she'll be like, 'There's something I didn't tell you about my ancestry results. I'm also one-20th Black,'" he said, referencing her claims that she was part Native American.
"There are some people on the right who are willing to consider reparations. But unfortunately, what they're saying is that that slave ship has sailed."
He also mocked the Conservatives who are of course, against paying out reparations:
"You know, it's funny how with slavery, these people are like: 'Get over it. That's history.' But if you try and take down a Confederate statue, it's like: 'How dare you! That's history.'"
Watch the clip below.