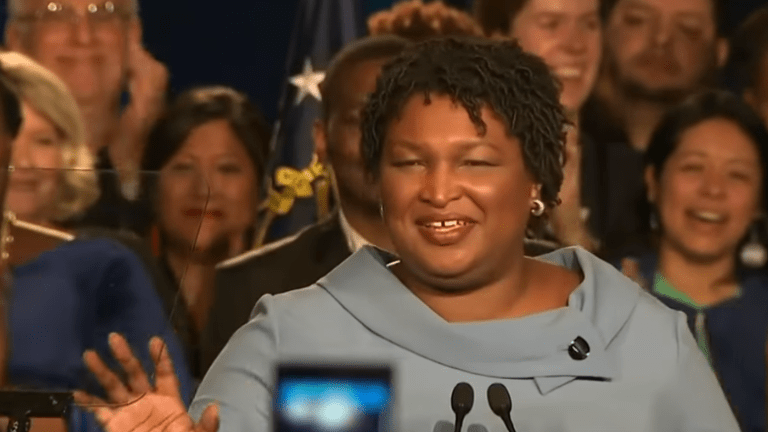 Stacey Abrams Refuses To Concede: "Every Vote's Getting counted!"
Stacey Abrams has vowed to fight on and to not concede in the aftermath of the murkiest midterms Georgia has seen in a while.
Speaking to her supporters early Wednesday morning, Abrams vowed to fight to the very end and is angling for a runoff next month.
"You're going to have a chance to do a do-over," she said. "Votes remain to be counted... There are voices waiting to be heard. Across our state folks are opening up the dreams of voters in absentee ballots, and we believe our chance for a stronger Georgia is just within reach."
"I promise you tonight we're going to make sure that every vote is counted. Every single vote! Every vote's getting counted!" she said.
Controversial Georgia Secretary of State Brian Kemp led Abrams with 51 percent of the vote to her 48 percent. But Kemp's camp has been accused of meddling with the votes. Five voters even filed an Election Day emergency lawsuit, stripping Georgia Secretary of State Brian Kemp of his powers to preside over the race for governor. 
The lawsuit, which was prepared by the watchdog group Protect Democracy, claims that Republican candidate Kemp "has used the official powers of his office to interfere in the election to benefit himself and his political party and disadvantage his opponents."
A runoff occurs when no candidate wins an outright majority of votes. Tens of thousands of absentee votes were mailed to Georgia election officials and results cannot be determined until each vote is counted.
So there's still hope!