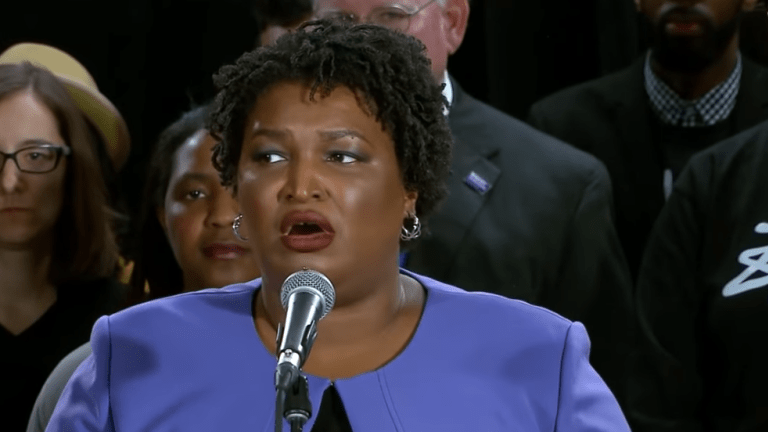 Stacey Abrams Plans to Sue the State of Georgia
Georgia gubernatorial candidate Stacey Abrams has acknowledged Republican Brian Kemp's victory but also plans to sue the state.
Abrams denied that it was a concession, but stated that it was an acknowledgment that she could not win and will now be suing Georgia for"gross mismanagement" of the vote.
Kemp has been accused by Abrams' camp and others of purging thousands from voting rolls in that capacity. Voter suppression is illegal, an even before the lawsuit has been filed, there have been plenty of indications that something untoward was going on behind the scenes.
"So let's be clear -- this is not a speech of concession, because concession means to acknowledge an action is right, true or proper," she said. "As a woman of conscience and faith, I cannot concede that. But, my assessment is the law currently allows no further viable remedy. Now, I can certainly bring a new case to keep this one contest alive, but I don't want to hold public office if I need to scheme my way into the post. Because the title of governor isn't nearly as important as our shared title -- voters. And that is why we fight on.
Under the watch of the now former secretary of state, democracy failed Georgia.
"Make no mistake, the former secretary of state was deliberate and intentional in his actions. I know that eight years of systemic disenfranchisement, disinvestment and incompetence had its desired effect on the electoral process in Georgia."
Kemp released a brief statement following Abrams' speech.
"Moments ago, Stacey Abrams conceded the race and officially ended her campaign for governor. I appreciate her passion, hard work, and commitment to public service. The election is over and hardworking Georgians are ready to move forward. We can no longer dwell on the divisive politics of the past but must focus on Georgia's bright and promising future," he said.
We will be following Abrams' battle for justice.