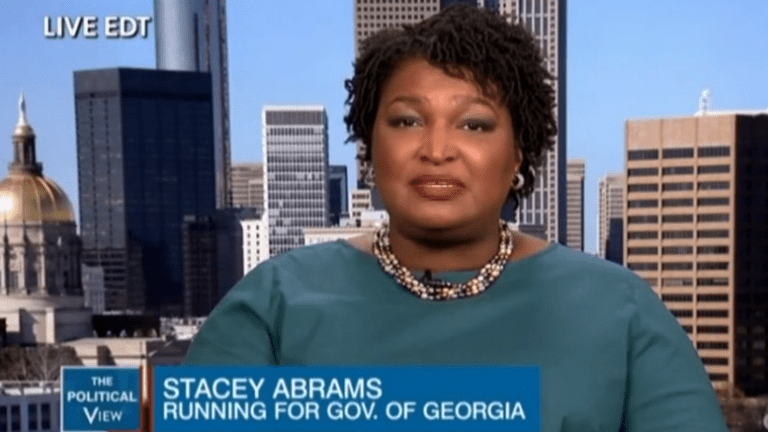 Stacey Abrams Checks The View's Meghan McCain Over Gun Laws
Stacey Abrams has been garnering a lot of love and support during her run for Governor in Georgia.
This morning, she as a guest on the talk show The View, where she spoke with the ladies about the issue of gun laws. Ever the pot-stirrer, Meghan McCain on brought up the Second Amendment, assuming that Abrams was anti-gun and angling to push her own pro-gun agenda, but she wasn't ready for Abrams' response.
When asked whether she supported banning the AR-15 assault rifle in the wake of the Tree of Life massacre in Pittsburgh. McCain brought up Abrams' endorsements from two anti-gun organizations.
"I'm not anti-gun. My great-grandmother taught me how to shoot when I was growing up in Mississippi," Abrams stated. "I don't hunt because I mostly eat chicken and that seems mean." 
If McCain had only headed to Abrams' official website to read up on her policies, she would know that Abrams seeks to ensure that gun owners are subject to a universal background check and to allow families and law enforcement to have a path to petition a court to temporarily restrict firearms access. In other words, mentally unstable people or those with extremely violent and/or disturbing backgrounds should not have the right to bear arms.
At present, Georgia does not require background checks for private gun sales between individuals (including at gun shows), creating a loophole through which individuals who would not pass background checks can still legally purchase firearms.
"[...] Most responsible gun owners understand that they have the responsibility for the firearms, and making sure that only responsible people have those firearms," she said, calling the AR-15 a "weapon of mass destruction" and stated that it does not "belong in civilian hands."
"We have had a ban on assault weapons before in the United States, and I think that we should do it again," Abrams said.
"But I do want to push back on any notion that I believe that the Second Amendment is not the law of the land. I support the Second Amendment," she said, adding that her father was an avid gun enthusiast who gets rifles for Christmas every year.
The issue seems to be a great cause of division for the country. While the Democrats appear to be pushing for more stringent laws pertaining to gun ownership, many Republicans are quietly pushing forward the NRA's agenda. Education Secretary Betsy DeVos came under fire for considering arming teachers in the classroom. 
"Far too often, the focus has been only on the most contentious fights, the things that have divided people and sent them into their entrenched corners," DeVos said earlier this year. "But the plan that we're going to advance and talk about is a pragmatic plan to dramatically increase school safety and to take steps to do so right away."
Georgia need Stacey Abrams more than ever. In 2017, there were a total of 346 mass shootings. So far in 2018, a total of 293 mass shooting incidents have occurred in the U.S.