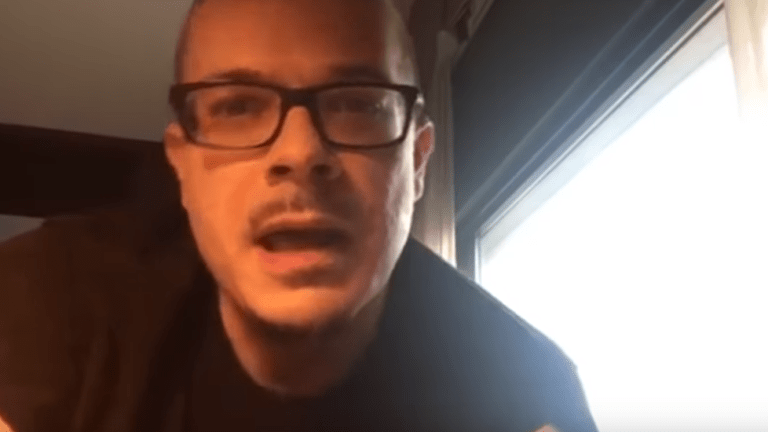 Shaun King Defends himself against recent accusations
Shaun King has been forced to defend himself following accusations that he is stealing funds from the families of Jazmine Barnes and Cyntoia Brown. 
The popular journalist/activist sat down with Pulitzer prize award winner Karen Hunter on her SiriusXM Urban View's "The Karen Hunter Show."
King told Hunter that he intends on taking legal action against his accusers:
"There are probably 250 of these cases where people have just posted, not questions, not criticisms, not jokes, not talking trash, not funny memes — all of that so be it, I can deal with that but if you posted a lie that does me harm this is just the way that we're going to respond."
Writer Clarissa Brooks, pulicly accused him of stealing from Cyntoia Brown, has posted: "I will not recant. I will not apologize.'"
"This does Cyntoia Brown a disservice, it does Tamir Rice, Mike Brown — every other family that I've raised money for, they end up getting sucked into this ugliness and people start contacting them. For five straight years, the family of Tamir Rice has had to tell people, 'No, actually Shaun King did not receive a dime of the money he raised for us.' They keep having to answer that and it's unfair to them," King told Hunter.
"Cyntoia Brown, her name should not even be in this conversation. I never even raised money for her. The family of Jazmine Barnes, they don't need this, they shouldn't even be in this conversion."
King's wife, Rai King, penned an article on Medium, defending her husband:
"No one-regardless of their race — should be able to levy such serious allegations as theft and plagiarism against someone else so casually. If Shaun stole money from Cyntoia Brown, or anyone else, it wouldn't just be ugly or scandalous, it would be a felony" she wrote.
"And anyone demanding that Shaun "prove" the allegations are false, clearly doesn't understand the way justice works. The burden of proof lies with the accuser, not the accused. When a woman posted asking "Are folks going to hold Shaun King accountable to money he raised for Cyntoia? Or is that going to disappear as well?" — she wasn't asking a friendly question. How can people even hold Shaun accountable for money he never "raised" for Cyntoia. What money are you saying that Shaun raised that disappeared? For who? Shaun had nothing to do with any fundraisers for Cyntoia Brown. It simply never happened. He helps to raise money and bring awareness for many causes. Hers was not one of them. She will not say he raised money for her. Her people will not say he did. What happened to her was a disgusting miscarriage of justice, and I am glad she will finally be set free. Shaun and I both fought for her to be granted clemency. I wish her well, and am sorry that her name is being used at all in any of this. She deserves better," she continued.
Listen to King's interview with Hunter below.