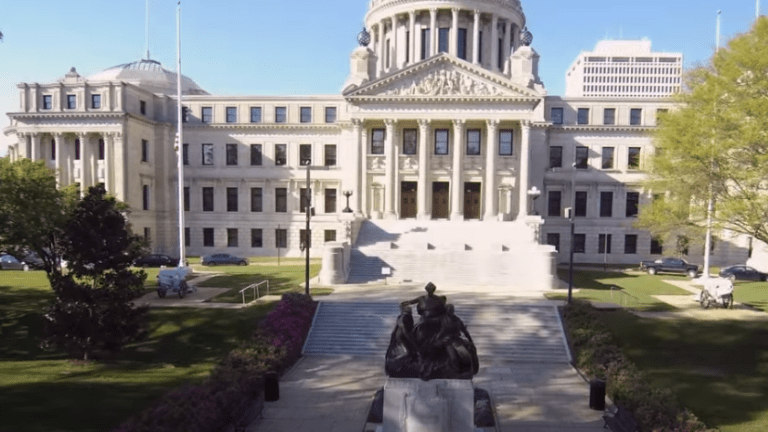 Seven Nooses Found Hanging at Mississippi State Capitol
Seven nooses were found hanging at the Mississippi State Capitol Monday, sparking nationwide.
According to the Associated Press, early Monday morning, two nooses were found at the Capitol, and five more have been found since. As well as nooses, signs were also found, referring to the state's history of lynchings, as well as Republican Cindy Hyde-Smith's recent remarks about attending a public hanging. 
The nooses were found one day before the U.S. Senate runoff between Republican Cindy Hyde-Smith and Democrat Mike Espy. Trump was in Tupelo last night campaigning for Hyde-Smith.
Governor Phil Bryant released a statement Monday afternoon saying:
"The perpetrators of this act will be identified and prosecuted to the fullest extent of the law. I have contacted the Department of Public Safety and the Federal Bureau of Investigation for assistance."
U.S. Attorney Mike Hurst issued the following statement in response to nooses and hate signs found this morning outside the Mississippi State Capitol:
"With our law enforcement partners, we are actively looking into these acts of hate and intimidation. Let me be perfectly clear - there is absolutely no place in our state for these unacceptable symbols or tactics to intimidate others. If we find evidence beyond a reasonable doubt that a federal crime has occurred, these criminals will be swiftly prosecuted and held accountable. Let us all respond to these despicable acts by voting, working, raising our families, practicing our faith, and pursuing the American dream here in our great state without fear or trepidation and in harmony with our fellow citizens."
Lt. Governor Tate Reeves also issued a statement saying:
"I have asked Capitol Police and the Department of Public Safety to fully investigate this reprehensible act and will support the resources necessary to find those responsible."
The Mississippi State Conference NAACP responded to the discovery saying:
"While much of the information about the incident is still unknown, we firmly believe the current climate of racial and cultural insensitivity has contributed to a decline in civil discourse.

We recognize this moment as further evidence of the need to actively engage in the political process and hold our elected officials accountable for their rhetoric and voting records. We will continue to defend the civil and human rights of everyone in Mississippi and will work diligently to defeat hate wherever or however it materializes.

We are mindful of the vicious cycle of intimidation and divisiveness that has created the current political climate that at best disenfranchises minority voters and at worst is a threat to their wellbeing. We will continue to encourage and support efforts to ensure all Mississippians can participate in the political process and become more civically engaged."
Police are currently reviewing surveillance footage of the grounds.