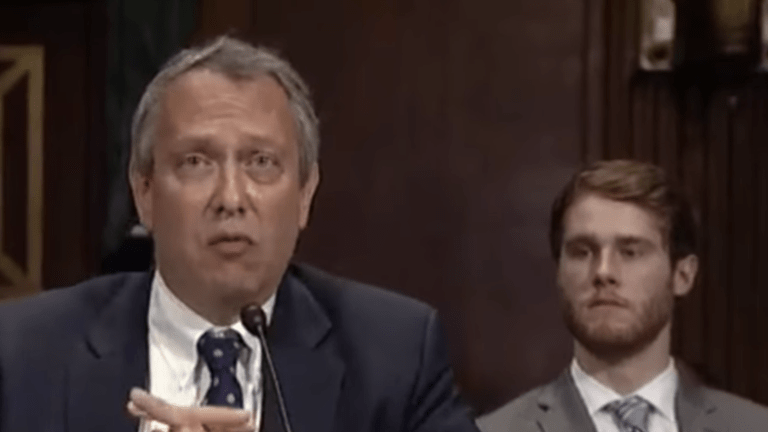 Senate Advances Judicial Nominee Known For Crippling Black Voters' Rights
The Senate is a step closer to confirming Thomas Farr to be a federal judge, despite his long career of trying to weaken black voters' rights.
The Senate voted 50-50 on a procedural step to advance Farr's nomination to the U.S. District Court for the Eastern District of North Carolina. As expected, the Democrats voted against Farr, as well as Sen. Jeff Flake (R-Ariz.). Flake is currently is opposing all of President Donald Trump's nominees until he gets a vote on a bill to protect special counsel Robert Mueller. Vice President Pence gave Farr the tying vote.
Farr's final confirmation vote is expected later this week.
Farr wrote North Carolina's extreme voter ID law in 2013, which was later struck down by a federal appeals court. A master in voter suppression, Farr's nomination would be a step backward for the voting rights of minorities in this country.
"It is unconscionable that the Senate would even consider someone with Thomas Farr's record," Sherrilyn Ifill, president of the NAACP Legal Defense Fund, said Tuesday. "In 2018, this should simply be unacceptable."
Only one more Republican is needed to block Farr's nomination. And it appears that Rep. Tim Scott could be the man for the job. He announced that he would not be voting for Farr.
"This week, a Department of Justice memo was written under President George H.W. Bush was released that shed new light on Mr. Farr's activities. This, in turn, created more concerns. Weighing these important factors, this afternoon I concluded that I could not support Mr. Farr's nomination," Scott said in a statement.
"I've been in the Senate long enough to see a whole bunch of questionable nominees, frankly from both parties, but Thomas Farr is unquestionably one of the worst," said Senate Minority Leader Chuck Schumer (D-N.Y.). "It's hard to believe President Trump nominated him; it's even harder to believe Senate Republicans are considering him again. This is a man who stands for disenfranchisement of voters, particularly minority voters."