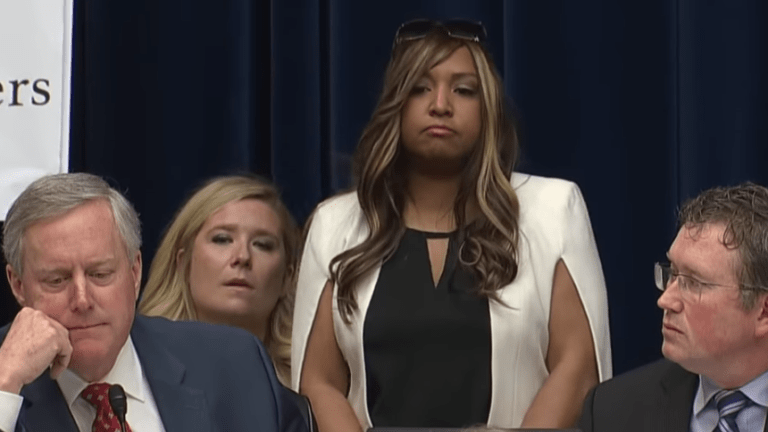 Republican slammed for using Black Trump staffer as a "prop"
Rep. Mark Meadows faced backlash online after he attempted to dispute claims that the president was a racist by calling out a Black Trump staffer, using her as a "prop."
President Donald Trump's former attorney, Michael Cohen publicly on Wednesday that president Trump is a "racist" and also claimed that he thought that Black people were "too stupid" to vote for him
"He once asked me if I could name a country run by a Black person that wasn't a 'sh*thole.' This was when Barack Obama was president of the United States. While we were once driving through a struggling neighborhood in Chicago, he commented that only Black people could live that way. And he told me that Black people would never vote for him because they were too stupid. And yet I continued to work for him," Cohen said of Trump.
Lynne Patton, a regional administrator in the Department of Housing and Urban Development department and was formerly an executive with the Eric Trump Foundation was brought out to stand next to Meadows as he pointed towards her and said:
"You made some very demeaning comments that Mrs. Patton doesn't agree with. She says, as a daughter of a man born in Birmingham, Ala., that there is no way that she would work for an individual who was a racist. How do you reconcile the two of those?"
Cohen responded quickly by saying, "Neither should I as the son of a Holocaust survivor."
Meadows then fired back saying: "I've talked to the president over 300 times. I've not heard one time a racist comment out of his mouth in private. 
"Ask Miss Patton how many people who are Black executives at the Trump Organization. The answer is zero," Cohen boldly stated.
Rep. Brenda Lawrence, then slammed Meadows claiming that it was "totally insulting" for him to present Patton, who is Black, to use her as a "prop" to dispute that the president isn't a racist.
Rep. Rashida Tlaib also blasted Meadows for the "insensitive" move.