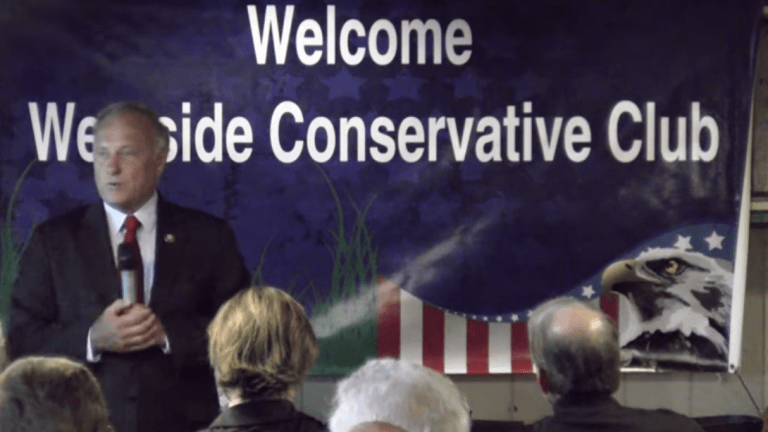 Rep. Steve King Questions Whether Humanity Would Exist Without Rape and Incest?
U.S. Rep. Steve King faced backlash after he questioned whether humanity would exist if not for rape and incest.
"What if we went back through all the family trees and just pulled those people out that were products of rape and incest? Would there be any population of the world left if we did that?" he said at the Westside Conservative Club on Wednesday in Urbandale, Iowa.
"Considering all the wars and all the rapes and pillages taken place and whatever happened to culture after society? I know I can't certify that I'm not a part of a product of that."
His statements were so radical that even fellow Republicans denounced his ideology:
State Sen. Randy Feenstra, a Republican challenger for King's seat in the 4th District, slammed him for his comments:
"I am 100% pro-life, but Congressman King's bizarre comments and behavior diminish our message and damage our cause. We can't afford to hand the 4th District to Nancy Pelosi and her allies in Congress," Feenstra said in a statement. "President Trump needs defenders in Congress, not distractions. In the State Senate, I've been an effective conservative who has fought for our values and delivered conservative results. I'll do the same in Congress."
Another primary challenger, Jeremy Taylor, a Sioux City Republican, also slammed King's words:
"As a U.S. Army chaplain, my passion for this issue is at the core of who I am," Taylor said in a statement. "Unfortunately, Congressman Steve King continues to be in the press for all of the wrong reasons. His comments feed the left, the mainstream media, and puts Republican control of this seat and our ability to take back Congress in jeopardy. We must nominate a conservative who can win."
King is ignoring calls for him to resign, claiming that the New York Times misquoted him:
"People think it was an organic media feeding frenzy, but no, it was orchestrated from the beginning," he said Wednesday. "They had told me, 'Heads up before Christmas: They're going to try to drive you out of office and get you to resign.' Within 24 hours, you had people saying, 'Resign, resign, resign.' Why? Because the New York Times misquoted me?"