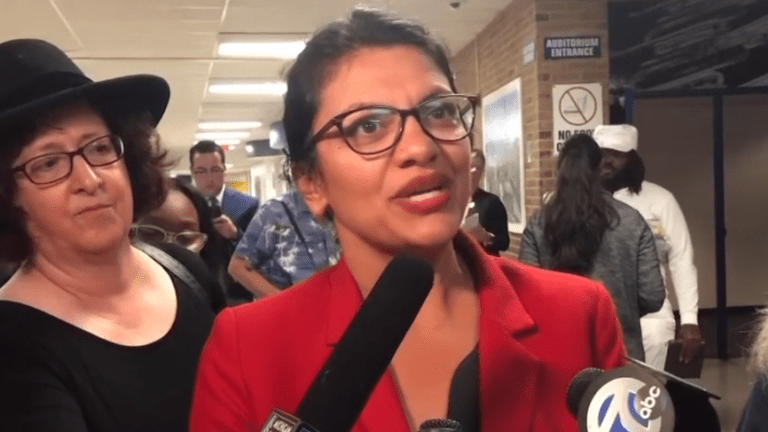 Rep. Rashida Tlaib Rejects Israel's Offer for her to Visit: 'It Would Kill a Piece of me'
Rep. Rashida Tlaib (D-Mich.) has announced that she will not go to the West Bank and Israel to visit her grandmother after Prime Minister Benjamin Netanyahu's government initially blocked her from visiting.
"Silencing me & treating me like a criminal is not what she wants for me," said Tlaib via Twitter. "It would kill a piece of me. I have decided that visiting my grandmother under these oppressive conditions stands against everything I believe in — fighting against racism, oppression & injustice."
"When I won, it gave the Palestinian people hope that someone will finally speak the truth about the inhumane conditions," Tlaib wrote in a tweet. "I can't allow the State of Israel to take away that light by humiliating me & use my love for my sity to bow down to their oppressive & racist policies."
This comes a day after the country issued a ban to her and fellow Rep. Ilhan Omar from visiting the country.
"Congresswoman Tlaib has sent tonight a letter to Minister Deri in which she committed to accept all the demands of Israel to respect the restrictions imposed on her in the visit, and she also promised not to advance boycotts against Israel during her visit," Interior Minister Aryeh Deri said in a statement on Friday morning.
The country had initially implemented the ban of the progressive congresswomen because of their support of a boycott against Israel, a decision backed by President Donald Trump. 
In a statement, Netanyahu responded to his critics, saying: "Israel is open to critics and criticism, with one exception: Israeli law prohibits the entry into Israel of those who call for, and work to impose, boycotts on Israel, as do other democracies that prevent the entry of people believed to be damaging to the country."