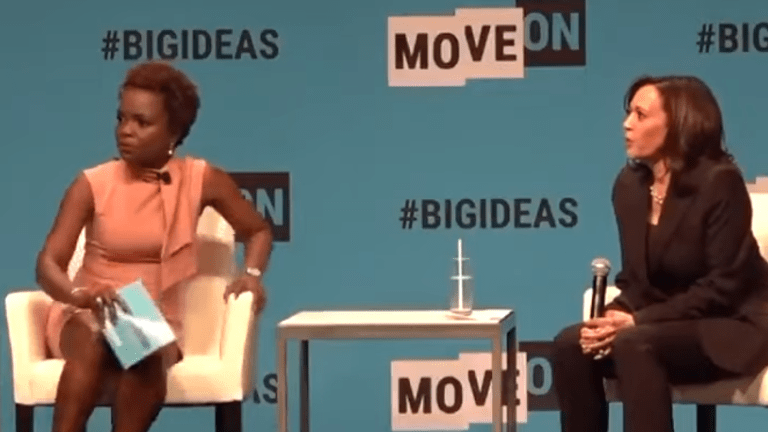 Protester grabs mic from Sen. Kamala Harris during forum
A disgruntled protester made headlines after he leaped onto the stage during an event in San Francisco on Saturday, grabbing the microphone out of Sen. Kamala Harris' hands.
At the time of his now-viral microphone snatch, the senator and presidential candidate was answering a question about the gender pay gap.
Aidan Cook, only said that he wanted to turn attention to a "much bigger idea" but he was swiftly removed from the MoveOn's Big Ideas Forum by several people including Harris' husband Doug Emhoff, was one of several people who helped get the protester off the stage.
According to animal rights organization Direct Action Everywhere, Cook was a member of the group and wanted to ask Harris "to support ordinary citizens rescuing animals rather than the factory farms that abuse animals." 
Cook told the press that "there's one big idea that all of the 2020 presidential candidates are ignoring." The protester obviously feels that closing the gender pay gap is not a big enough idea.
MoveOn released a statement saying that they "regret that a protester was able to gain access to the stage at our forum today."
Cook was asked by a Guardian reporter if he had considered the optics of literally taking the microphone away from women of color. 
"I did," he said. "I tried to show my profound respect for each of the people onstage."
Harris was one of more than a dozen hopefuls for the Democratic nomination who was in San Francisco for California's Democratic convention.